AYRES: Sculpting Femininity in Powerful Marble Design
What constitutes femininity in contemporary design? Between age-old conceptions of nature-as-female versus culture-as-male and feminist deconstructions of such binary categorisations, we find AYRES' newest array of marble designs, the "Amazonas" collection. Inspired by powerful historic representations of women, the Mexico City-based design studio investigates the complexities of women's identity and simultaneously celebrates their greatness. With the "Amazonas" pieces, AYRES is making "a tribute to women around the world" according to the studio's Creative Director Karim Molina, leading the way for striking marble objects and feminist design in Mexico.

View the works by AYRES, including the "Amazonas" Chair.
"In our studio, the material is the first inspiration for a collection, and [it] is the principal part [of] our designs. [A]mazing materials can talk for themselves."
– Karim Molina, Creative Director of AYRES
From volcanic stonework to marble design, the use of various types of high-quality stone and close collaboration with Mexico's expert artisans is emblematic of AYRES' practice, serving as the source of inspiration for their increasingly more experimental endeavours. "We focus a lot on the natural personality of the material to create pieces with a strong identity," Molina emphasises. This sentiment is clearly reflected in the "Amazonas" series, where marble is sculpted by hand into organic, sinuous shapes coupled with patterns recalling prehispanic iconography. By manipulating the stone in such a way that it embodies both harsher and softer qualities, the "Amazonas" pieces signify a deconstruction of the traditional male-female dichotomy.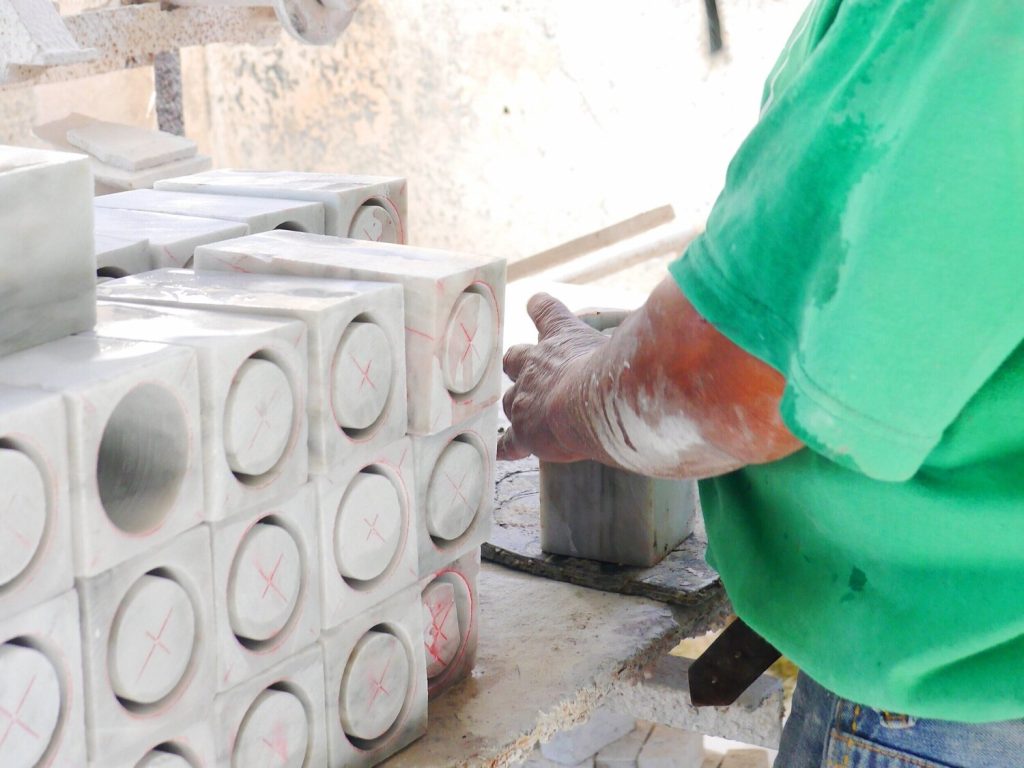 "The daily work with artisans is the most important part of our process."
– Karim Molina, Creative Director of AYRES
It is not just the play with materiality and form but also historical references that allow AYRES to transform ordinary experiences into moments of empowerment and reflection by mixing ancient Greek mythology and indigenous history. Given its large scale and elevated seat, the "Amazonas" chair represents a symbolic throne for women. Whilst the sphere with carved details is reminiscent of the battle shields of the Amazons, the support structure recalls ancient Greek temples. Additionally, themes of spirituality are evoked through the marble design of the accompanying table (available in a low and high version), alluding to the altar of indigenous warriors which served as their sacred resting place.
By pushing the limits of marble design, AYRES enforces an aesthetic that blends the traditional and ancient with the modern, creating a distinct and easily recognizable visual language. Despite their experimental spirit, the Mexican design studio is grounded in an appreciation for the material itself and Mexico's artisans shaping it. This attention to balance is also a defining feature of the "Amazonas" collection as femininity is constructed through a careful mediation of nature, culture and history.
Welcome beautifully handcrafted marble furniture with a touch of history into your home through ADORNO's selected curation of AYRES' work. Click here to explore AYRES' showroom and purchase their pieces >
---
BIO
AYRES works on their designs in several states in México. They seek to establish fair terms of trade with artisans that can allow them to offer objects 100% handmade with high-quality materials and the most beautiful hand craftwork.
AYRES' philosophy is that we all deserve special objects that tell a story and a purpose within our space, that is why they personally seek the materials and the artisans they work with. This gives a sentimental and totally intimate side to each of their designs. They design and create simple handmade objects with the finest materials and a great story behind them, proposing a simple, natural and personal life.