Unassuming Materials: 7 Design Studios Upcycling Construction Materials into Collectible Design
Gathering inspiration in unexpected places and seeing the beauty of discarded materials.
This edit highlights a selection of design studios who employ a more sustainable approach to material use, developing pieces which juxtapose original material histories with their final, collectible forms. They create an interwoven narrative of old and new, cast away and repurposed. Possibilities are endless, with the makers featured here making use of alternative media such as misshapen bricks; gypsum from demolished buildings; glass remains from architectural productions; construction tubing; and unused, redundant marble. From these unassuming materials, unique collectible design is created, emphasising a desire to innovate and a love for craftsmanship.
Featuring the work of BASIS RHO, Eurico Humano, Evelina Kudabaite, Filip Janssens, Severija Inčirauskaitė-Kriaunevičienė, todo to do, & Teresa Fernandez.
BASIS RHO, "VSE XYZ – Black/Soft Grape"
Architecture for flowers.
Each "VSE XYZ" vase is unique and fully manufactured by the artist duo Jeschkelanger out of their new material, Basis Rho, an artistic material created from the remains of international art and architecture productions. Each chunk is bound into its own fine concrete recipe and thus becomes an irregular window in the coloured stone. This vase consists of 13 individually designed Basis Rho tiles in our own studio colours 'dotty black' and 'soft grape'.
View BASIS RHO's showroom, including "VSE XYZ – Black/Soft Grape" (€440 ex. VAT)
Eurico Humano, "Under Construction"
"Under Construction" is a sculptural light object made with a rope and a handmade deformed brick. Here, the idea is to explore the nature of relationships and the interdependence of the two different sides, where the struggles of them fuse and form a third complete piece. Brazilian artist and product designer Eurico Humano combines shape and texture into unique conceptual pieces, as a result of the material research allied with the passion for essentially handmade processes.
View Eurico Humano's showroom, including "Under Construction" (€1.850 ex. VAT)
Evelina Kudabaite, "Raituzai" Series
"Raitūzai" is a collection of home accessories – mirrors and candle holders – created using unique waste material derived from a collapsed building. The main details of these objects are gypsum-like pieces that were used to decorate ceilings at the beginning of the 20th century. They are now transformed into new objects. Each piece is unique by its cross-section and surface that changed over the years. It is a collection where 20th and 21st centuries blend into a new objects, connecting past, present, and, hopefully, future.
View Evelina Kudabaite's showroom, including the "Raituzai" Candleholders (Small & Large) & "Raituzai" Mirrors (Small & Large) (€130,40 – €300 ex. VAT)
Filip Janssens, "Lunair" Light
This story behind "Lunair" Light began at a stone company where Filip Janssens discovered a huge pile of redundant scrap stone like marble and travertine, in theory unusable for any natural stone project and destined to be destroyed. Mesmerised by the patterns and imperfections in the marble and travertine pieces, Filip took some of them home and imagined this lamp. The material was beautiful by itself, with all its imperfections. The specific design of "Lunair" brings those imperfections to light.
View Filip Janssens' showroom, including "Lunair" Light (€1.950,40 ex. VAT)
Severija Inčirauskaitė-Kriaunevičienė, "Light Bucket Challenge II"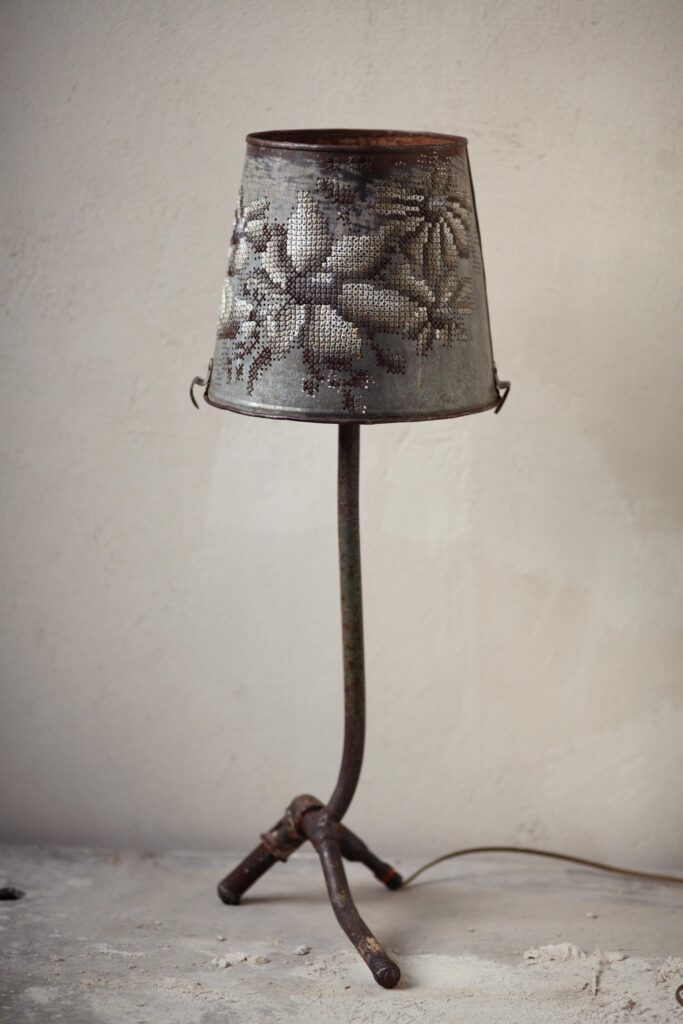 "Light Bucket Challenge II" is a unique, functional light created from an old bucket and radiator details. The object is embroidered with cotton thread directly through the metal. Inčirauskaitė-Kriaunevičienė is one of the most famous Lithuanian textile artists/designers and well-known in the international artistic arena. Her design signature reinvigorates unused and discarded objects with cross-stitch embroidery.
View Severija Inčirauskaitė-Kriaunevičienė's showroom, including "Light Bucket Challenge II" (€2.700 ex. VAT)
todo to do, "Obreras" Vase Series
"Obreras" (Spanish word for female construction workers) is a collection of vases made out of construction waste found on the streets.
The plant that is born out of rubble. The apparently fragile overcomes the unbreakable. Why is a vase associated with the feminine? Why is the construction work to the masculine? From this context, we bring materials and objects from the construction sites, cold and anodyne, to the opposite, the warm and affectionate world of the vase. We propose a turn of the screw by completely changing the default use of construction materials.
View todo to do's showroom, including "Obreras IV" Vase & "Obreras V" Vase (L-R: €605,60 & €363,20 ex. VAT)
Teresa Fernández-Pello, "Bricomart Supreme" Vase N.2
"Bricomart Supreme" is a collection of vases created from materials available in the multinational stores which specializes in construction, refurbishment, and technical equipment. By decontextualizing the constructive elements and framing them within a different environment, the project seeks to question the relationship between objects and their context.
The "Bricomart Supreme" Vase N.2 is built from thermoforming and sculpting together different plastic pipe sections and connectors.
View Teresa Fernández-Pello's showroom, including "Bricomart Supreme" Vase N.2 (€455,20 ex. VAT)