Feminist Design: 5 Outstanding Women-Led Studios Shaping Design
Feminist design is an approach and beyond this, a philosophy that embodies the resistance against traditional gender norms. It is a window to a future where designers challenge gendered assumptions behind everyday objects and turn to inquisitive ways to empower the voices of women and other marginalized groups. This future is slowly taking shape through the work of a diverse group of female designers and independent women-led studios, reclaiming a historically male-dominated discipline.
A Bauhaus-inspired design ethos – think of the great Anni Albers or Marianne Brandt – combined with an eagerness to subvert expectations, serves as the inspiration for this generation of feminist makers. Their objects represent a reflective and meditative investigation into the idea of gender, without compromising on either visual impact or utility – they are bold statement pieces with a message relevant as ever. In honour of Women's Day, we are highlighting five female trailblazers in the field of feminist design who skillfully blend handcrafted methods with a fresh modern aesthetic.
Our homes, the domestic realm, have long been conflated with women's space in society. Kiki Goti intervenes in this process of gendering our homes with her maximalist, visceral design objects. Taking inspiration from Alber's legendary geometric textiles, Goti's designs are part of her larger vision to construct a feminist reimagination of the domestic realm. What defines her aesthetic is distorted archetypal forms that are sculpted from a combination of contrasting materials that she embows with bold colours and a seemingly endless array of stripes.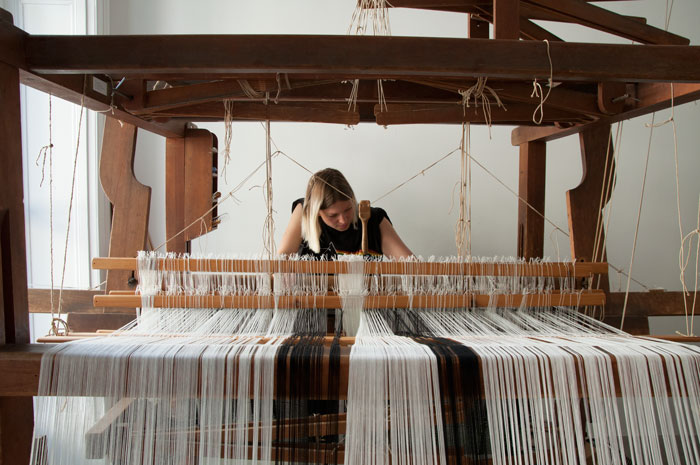 Based in Berlin, Germany, Evelyn Sitter is a textile artist and designer, whose oeuvre is guided by the idea of deconstruction or the reversal of technical sequences. Through this, she constructs large-scale weaving and simultaneously paintings, exploring the aesthetic of the woven canvas and the legacy of abstract painting. Sitter utilises a countermarch loom from the 19th century onto which she paints the warp threads. She starts this process by investigating the construction of the canvas itself, the base of every painting: an iconic yet underrated fabric.
Located on one of the world's highest mountain ranges, the Andes, among snow-capped peaks and freezing winds, Las Manuelas tells the story of a group of women alpaca herders and artisans. Born from a desire to empower these women from Puno, Peru, Las Manuelas set out to share their knitting, full of soul and made from 100% natural alpaca wool, with the world by connecting them with artists and designers. The empowerment and economic independence of these women artisans is the key mission of Las Manuelas, which evolved into today's manifesto of ten values, ranging from sustainability to equal, inclusive design.
Åsa Jungnelius is a visual artist and lecturer at Konstfack, University College of Arts, Crafts and Design, based in Stockholm and Månsamåla. Her work is often material-related and investigates the relationship between our bodies and the objects and interiors we surround them with. As a result, her design pieces become a sort of fetish of ourselves as individuals and our contemporary condition.
Objects possess the unique ability to disrupt existing paradigms by intervening in our everyday lives, provoking us to challenge the status quo. For Mexico City-based design studio, Comité de Proyectos, these relationships we have with objects are what fuel social change and design activism. In line with this, Andrea Flores and Lucía Soto, the studio's founders, aim to translate feelings and sensations into useful objects with a greater purpose.
---
Discover More Objects Crafted by Extraordinary Women Makers