Comité de Proyectos: A Case for Design Activism
Objects possess the unique ability to disrupt existing paradigms by intervening in our everyday lives, provoking us to challenge the status quo. For Mexico City-based design studio, Comité de Proyectos, these relationships we have with objects are what fuel social change and design activism. In line with this, Andrea Flores and Lucía Soto, the studio's founders, aim to translate feelings and sensations into useful objects with a greater purpose.
Most recently, gender violence – an inescapable reality for women in Mexico – struck a chord with the creative duo. Out of an urge to dissect the origin of this violence, the "Centinelas" collection was born. Through a strong narrative and attention to detail coupled with the work of skilled artisans, Comité de Proyectos showcases the power of design activism as they are advocating for gender equality.
View all pieces by Comité de Proyectos, including the "Vilma" Display Cabinet >
Termed "femicide nation" by the media, countless protests in Mexico call for "Ni Una Menos", or "Not One Less"; a message that deeply moved Flores and Soto. "[W]e realized that we both had a very strong need to transform the pain and indignation caused by femicides and gender violence," they explain. At a remote ranch in Mexico's mountains, they reflected on this violence. During this creative hibernation, the concept behind "Centinelas" came to fruition: care.
Consisting of the "Ramón" credenza, the "Carmen" bar cabinet and the "Vilma" display cabinet, the "Centinelas" pieces embody care as their sole function is to keep one's precious belongings safe. They were realized with the help of Marlon Millan, a key part of the studio's team and in charge of product development.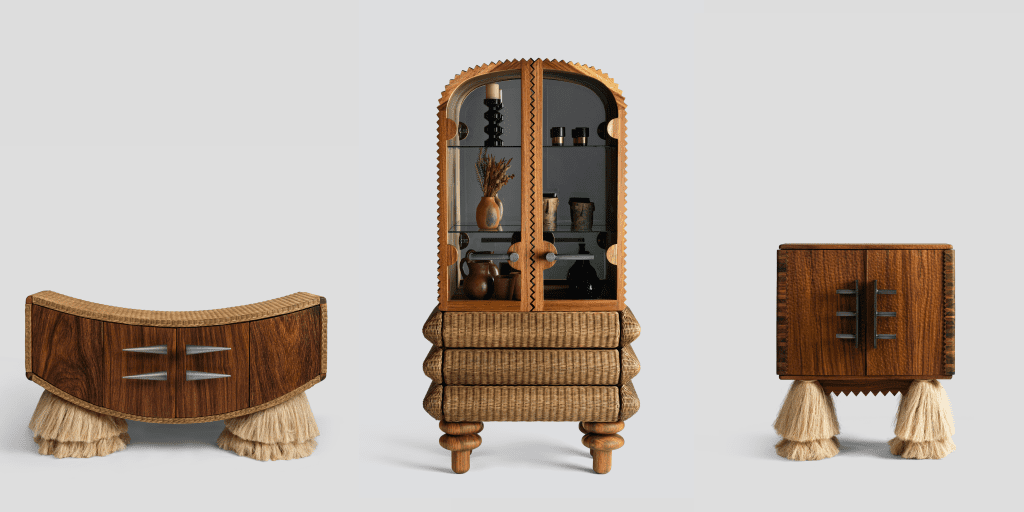 "[C]aring requires empathy and compassion as opposed to the objectification that we see present whenever violence is exercised."
– Andrea Flores & Lucía Soto, Founders of Comité de Proyectos
Debuting last October at Mexico Design Week, "Centinelas" aims to reconnect people with the importance of care and our responsibility to express empathy for each other regardless of gender. This is evident in the symbolism of the materials: hand-carved Huanacaxtle wood and natural fibres endemic to Mexico.
Taking cues from the country's rich history of craftsmanship and their own childhood, Flores and Soto chose rattan to convey a sense of warmth and familiarity. Simultaneously, the woven pattern refers to the network of relationships that is the foundation of our society. The metal ornamentations serve as a cold contrast and reference jewellery; a way to adorn but also take care of oneself.
"In the end, our pieces are always the result of collaborative work between us and the artisans."
– Andrea Flores & Lucía Soto, Founders of Comité de Proyectos
As a whole, the "Centinelas" collection by Comité de Proyectos transcends the gendered notions of care and raises awareness about gender violence by championing Mexico's craftspeople. This case of design activism is a result of the studio's acute awareness of how design is fundamentally about transmitting ideas and culture. Flores and Soto want to be conversation starters for issues that go beyond the realm of design and with "Centinelas" they want to free their country from the grip of patriarchal violence.
Invite the caring spirit of the "Centinelas" collection into your own four walls, part of ADORNO's curated selection of Comité de Proyectos' works. Explore their showroom and shop their products >
---
BIO
Together with their team of designers and artisans, they have developed several collections of sculptural objects that have been exhibited in museums and galleries in Mexico and abroad; and they also have an extensive catalogue of furniture for residential and commercial use.
Their thinking is a constant flow between the subjective and the functional, the craft and the market, technique and art.