Las Manuelas Art Series: Art meets Sustainable Fashion and Inclusive Design
Located on one of the world's highest mountain ranges, the Andes, among snow-capped peaks and freezing winds, Las Manuelas tells the story of a group of women alpaca herders and artisans. Born from a desire to empower these women from Puno, Peru, Las Manuelas set out to share their knitting, full of soul and made from 100% natural alpaca wool, with the world by connecting them with artists and designers. At its heart, Las Manuelas is "[…] a community, method, and space to nurture inclusive design by exploring exciting connections and partnerships with the idea to create beautiful and respectful artefacts done by hand with [the] natural resources of our planet", according to the project's co-founder and Creative Director, Isabel Berz.
2022 marks the initiative's ten-year anniversary as well as the launch of its most ambitious collection to date, Las Manuelas' "Art Series", designed by highly acclaimed international artists and realised through the skilful hands of Peruvian artisans with the contribution and dedication of IED, Istituto Europeo di Design, students and Alumni. United by the vision to push traditional boundaries both in the fashion and design world, ADORNO, IED and Las Manuelas have partnered up for the launch of the "Art Series" to share this powerful story of inclusive design with a global community.
Explore Las Manuelas' showroom, including the "HuskiMitNavn" Scarf by Flora Hualpa >
"We love the idea to act as a reference, a positive case study, that it is possible to do things another way and be still valuable in the market."
– Isabel Berz, Co-Founder & Creative Director of Las Manuelas
Las Manuelas' story started back in 2012, when Isabel Berz, Director of IED's Research & Education Center at the time, was invited by the Peruvian NGO Movimiento Manuela Ramos to visit Puno's female artisans and alpaca herders with the goal of creating a collection with them. Together with some selected IED students, Berz fully immersed herself in the life and work of these women. "[A]bove all, we understood that they were equally important as us, the designers, or even more, they are the true masters. Their precious natural wools and their craftsmanship make the products so exceptional and valuable," Berz explains.
The empowerment and economic independence of these women artisans crystallised as the key mission of Las Manuelas, which evolved into today's manifesto of ten values, ranging from sustainability to equal, inclusive design. During this life-changing trip, the concept of the "Co-Design Platform" was born as well. Through this digital tool, realised in conjugation with IED, artists worldwide can collaborate with Peruvian craftspeople, eliminating the traditional hierarchies found in the fashion world.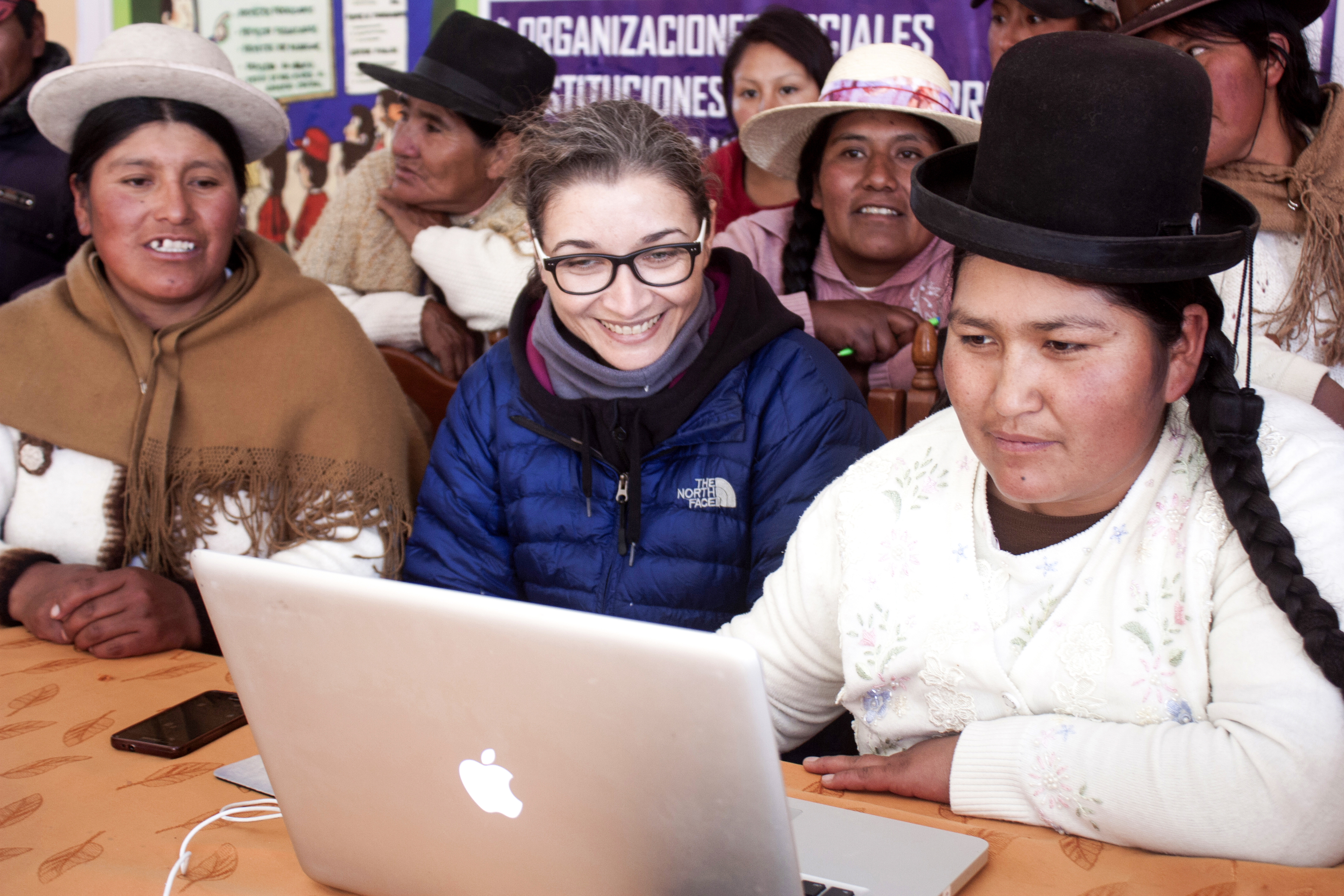 "The important thing is its story, its process, and its longevity. It has been done to tell a story, and to perdure, to accompany for life."
– Isabel Berz, Co-Founder & Creative Director of Las Manuelas
Another chapter of the Las Manuelas' universe recently unfolded, the "Art Series", showcasing their multidisciplinary spirit as they blend the boundaries between fashion, art, design, and technology. Curated by David Lapof, IED Project Manager, this collection of functional textile art is designed by eleven highly esteemed contemporary artists from around the globe, namely Bicicleta Sem Freio, Broken Fingaz, HuskMitNavn, L'ATLAS, Lakwena, RekaOne, REVOK, SatOne, SEIKON, SOLOMOSTRY, and Zebu. What connects these artists is a shared passion for street art, a genre often dismissed as "low art", similar to how craft has been mistreated in the traditional art history canon.
With the "Art Series", Las Manuelas is defying the age-old categorization of "high and low art" by juxtaposing the rural with the city, the artisan with the artist, nature with technology in a quest to unite them and create innovative, sustainable as well as multi-functional art. Bold, colourful graphics mixed with typographical and figurative elements from fantastical landscapes to horses with flaming manes to abstract shapes in muted colours, these eleven textiles represent both the stylistic diversity in street art but also the potential to reinvent wearables through connecting modern-day creativity with timeless, resourceful artistry.
"We hope that other brands (fashion, design, home) will get inspired from Las Manuelas, and start to do things in another way, in a respectful and innovative manner."
– Isabel Berz, Co-Founder & Creative Director of Las Manuelas
As a whole, the "Art Series" is a testament to Las Manuelas paving a new way for a more inclusive and sustainable future in the creative industry through their unique collaborative and multidisciplinary approach. This collection also represents a significant step for the organisation in terms of distribution as they are embarking on a journey to disseminate their artful textiles internationally through concept stores and major fashion events, such as their exhibition and talk during Copenhagen Fashion Week, 31 January – 3 February 2023. One thing is for sure: the story of Las Manuelas will only continue to grow and the voices of the artisans will be amplified, from the highlands of the Andes to the world's high-fashion stores.
Get your hands on Las Manuelas' hand-knitted wearables made from 100% natural alpaca wool and shop the "Art Series" in their showroom by clicking here >
---
BIO
Las Manuelas is a group of women, an initiative, an international community, a collective journey.
The Manuelas are alpaca herders who live in the high Andean region of Peru, highlands of distant horizons at more than 4,000 meters, where cold and pure air blows and where they raise their alpacas.
In collaboration with international artists, knitted textile pieces are created that are impregnated with the hand and the stamp of the people who made them – products with a soul that tell their origin story and accompany one for life.
Impulsed by the Peruvian organization Movimiento Manuela Ramos, under the creative direction of Isabel Berz from IED REC, a collaborative methodology and a new sustainable and transparent design, as well as a manufacturing process, have been created.
Over the years, they developed an inclusive design tool, the "Co-Design Platform". This digital platform allows the alpaca herders and artisans from Peru to connect with artists and creatives from around the world to co-design textile pieces that are made in a careful process traceable to the animal.
Istituto Europeo di Design (IED) is the largest Higher Education Network in the creative field to have maintained a global outlook and a deeply Italian cultural matrix, since 1966.
IED educational experience has changed over time but continues to be based on a simple and effective model: to combine theory with practice and knowledge brought into the classroom by professionals from the world of work. IED is an inclusive, transdisciplinary school that uses design as a universal language for change.