Along the Grain: 10 Designers Highlighting the Beauty of Woodworking
Developing from historic roots in master workshops around the world, this edit presents a selection of designers whose work highlights the beauty of contemporary woodworking. Carved, turned, oiled, lacquered, or painted, each designer emphasises the material knowledge and craft skill associated with this long-held artistic tradition. The resulting pieces show the flexibility of this seemingly solid material and the opportunities for design from the tradition of woodworking. Natural grain allows each piece its own unique identity, unrepeatable in texture and colour despite a similar, final form. Below, textured wood takes on smooth, curved forms; questions the connection between object and negative space; and playfully draws inspiration from everyday objects.
This woodworking edit features the work of General Life, Henrik Ødegaard, Julia Krantz, Nazara Lazaro, Objects with Narratives, Peca, Piedrafuego, Sanghyeok Lee, The Whole Elements, and Tornasol Studio.
General Life, "Pickle" Table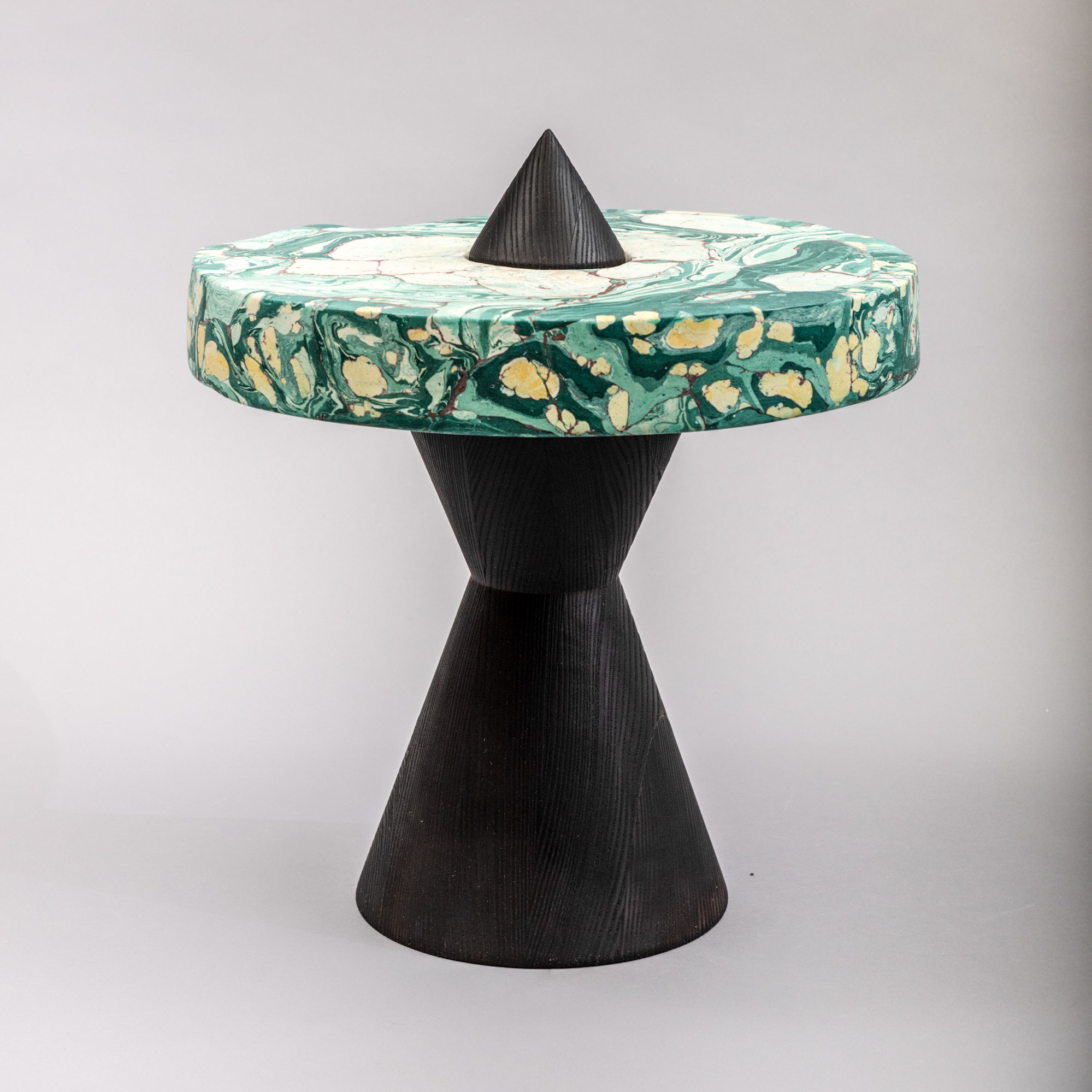 The "Pickle" Table consists of three stacked cones in turned, ebonised ash with an etched brass foot insert, supporting on its shoulders a scagliola ring – the colors and patterning of which is inspired by the designer's love for sour Polish pickles. All of General Life's work originates in the artist's studio and is made by hand in it's own workshops and in collaboration with a community of small-scale fabricators in the West Midlands.
View General Life's showroom, including "Pickle" Table (€4.695 ex. VAT)
Henrik Ødegaard, "Slurp" (Blue)
The beauty of interior spaces is created equally from the physical objects that inhabit it, but also from the empty space that exists between the objects. Norwegian designer Henrik Ødegaard explores this idea within the individual pieces, using only materials that were already at his disposal. The resulting negative spaces were dictated from the wood's natural knots and weaknesses, letting the material truly dictate the final form and tell a unique story of its own.
View Henrik Ødegaard's showroom, including "Slurp" (Blue) (€3600 ex. VAT)
Julia Krantz, "Suave" Chair
The "Suave" Chair comes as a response to the desire of bringing the surprise of softness and smoothness that a piece of wood can provide to the user, combined with a thorough study of ergonomics, resulting in a piece that welcomes those who settle in it almost like a hug. The creation process begins with sketches, followed by the modelling of the piece in a natural scale for study of ergonomics and shape.
View Julia Krantz's showroom, including "Suave" Chair (€3.200 ex. VAT)
Nazara Lazaro, "Crooked Lounge Chair"
The "Crooked Lounge Chair" forms part of "The Crooked Collection", an ongoing series of asymmetric and angular furniture pieces launched in 2020. Every piece is made to order, using hand glued timber from selected oak slabs, planed, and finished with hard wax oil. The design remains as pure as possible by keeping all the joins hidden. The use of massive oak gives a very premium finish and provides a warm contrast to the angular lines.
View Nazaro Lazaro's showroom, including "Crooked Lounge Chair" (€2.000 ex. VAT) // Photos by Fanette Guilloud
Objects With Narratives, "Tamayi" Stool
An undefined instrument that uses the concept of "Tamayi", which translates to shape things to your own liking. This contemporary typology of furniture is intended as a process of assembling. It has a beginning, but no end with an unlimited variety of configurations. Why not imagine a range of objects scoping from a functional bedside table or a sculptural hocker to an aesthetic Christmas tree or even a playful spinning top…
View Objects with Narratives' showroom, including "Tamayi" Stool (€750,40 ex. VAT)
Peca, "Rima" Credenza
There is a fine line between the practical object and the art piece – that is exactly where our handmade "Rima" Credenza stands. Borrowing the flow and rhythm of a poem, a cadence created with beech wood slats envelop the smooth wooden top in a flawless oval. Rima's harmonic lines yearn to be explored with the senses.
View Peca's showroom, including "Rima" Credenza (€3.621 – €9.422 ex. VAT)
Piedrafuego, "Potro" Stool
The "Potro" Stool is a metaphor for the equine anatomy. The influence we receive from Constantin Brancusi becomes evident in this piece. These stools are manually wood-turned from solid parota blocks by the Ramírez family in San Juan de Abajo, Nayarit. The wood is locally sourced, extracted by certified producers in the Mexican subtropical forests. Parota wood is appreciated for its dark, dramatic grain and its resistance to insects.
View Piedrafuego's showroom, including "Potro" Stool (€198 ex. VAT)
Sanghyeok Lee, "Useful Chair"
"One day, I noticed the scaffolding set up for repainting the building. I was looking at the scaffolding, I figured myself into the structure and was thinking about the life of the scaffolding structures. That was the moment when this useful project was born. Both scaffolding structures and I, are very useful yet insecure simultaneously. There are many contrasts in this project. Useful but jobless, lightness but substantial, vulnerable but determined."
View Sanghyeok Lee's showroom, including "Useful Chair" (€2.900 ex. VAT)
The Whole Elements, "Shape N.4" Cabinet
The starting point for "Shape N.4" and "N.5" was the idea of an object whose function is determined by the state of being empty inside. Work on this project was based on the analysis of different ways of using a hollow tree or timber in a log, beginning with the most primitive forms of intervention. Another thread came from the analysis of human intervention, from wild beekeeping, through cooperage (barrel-making) techniques, to the dugout technique and other traditional methods of producing wooden utility objects in old-time households.
View The Whole Elements' showroom, including "Shape N.4" Cabinet (€3.720 ex. VAT)
Tornasol Studio, "Mikado" Bench
Tornasol Studio's "Mikado" Bench is inspired by the set of Chinese sticks, Mikado. It is made of solid wood and has no joinery in the structure; it is solely supported by the multi-coloured, heat-shrinkable cable. It is made of solid wood and has no joinery in the structure; it is solely supported by the multi-coloured, heat-shrinkable cable.
View Tornasol Studio's showroom, including "Mikado" Bench (€970,40 ex. VAT)