pivot
€262,60 incl. VAT
Select your currency
This piece has been sold. Use the inquire button to request similar work.
Description
Additional information
| | |
| --- | --- |
| Full dimensions LxWxH (cm) | 35x30x3 |
| Weight (kg) | 2 |
| Material | |
| Production Year | 2020 |
| Color | |
The designer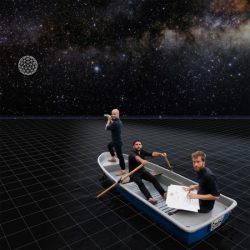 rlon
Berlin-based studio RLON
offers a 21st-century take on Space Age design, specializing in minimalist lighting with striking graphic and interactive elements. RLON
was established by Josua Putzke (b. 1981), Phillip Eibach (b. 1981), and Nehemia Turban (b. 1982) in Berlin in 2016. Their projects—ranging from furniture design to installations—playfully explore concepts of time, space, and probability. The three founders were sharing a studio space in 2015 and bonded over a mutual interest in metaphysics, spatial interaction, and a "sassy" sense of humor—each of which plays a role in their lighthearted and poetic work. Since they joined forces, they have been driven to create, in their words, "objects and narratives for curious spaces and curious minds." They view their work in the context of a growing global consciousness and hope to widen the ways in which the future is imagined by "crafting interactions and narrating stories that trigger awareness and award curiosity."

William Bagnoli
William Bagnoli is the Adorno curator of design destination Berlin. pivot by rlon is carefully selected as a piece that reflects the local design scene of Berlin. As a local and recognized design expert William Bagnoli's curation is a quality assurance that buying from rlon is a safe investment in the most important design from Berlin right now.
The curator says...
Berlin
---
Continue Browsing