The Artistic Journey of Kelsey Floyd
In the domain of contemporary art and pottery, Kelsey Floyd emerges as a self-taught maestro, seamlessly weaving passion and intricate craftsmanship into her creations. As the visionary behind Kelsey Floyd Pottery, she encapsulates the eloquence and resilience of the human spirit through her diverse pottery collection.
Embarking on a Serene Odyssey
With the onset of 2020 came unprecedented challenges, but also a profound connection with peace and harmony through pottery for Kelsey. Establishing a tranquil studio within the confines of her home, Kelsey embarked on a journey of self-discovery and artistic exploration, conceiving creations that mirror the intrinsic artistry embedded within humanity.
The Artistic Ethos of Kelsey Floyd
The essence of Kelsey's artistry resonates with parts of the mind that are often too profound for words. It's a pursuit to transform intangible emotions and thoughts into tangible pieces of art that people can adorn their lives with. The sculpted forms not only create visual allure but also tether an invisible connection between the creator and the beholder, offering a shared consciousness and mutual resonance.
Inspiration Drawn from the Ancient and the Natural
Influenced heavily by our world's ancient elements and natural curvature, Kelsey's vessels manifest free-flowing forms juxtaposed with the meticulous precision of chains. The contrast emanates a refreshing uniqueness, feeling both new and unearthed from another time, enabling an innate connection to the very fabric of our existence.
Masterful Craftsmanship
Every piece that comes from Kelsey's hands is a symphony of meticulous processes. They are hand-thrown, with each chain and chainmail sculpted by hand, and each pine needle is intricately woven, ensuring a creation as organic as it is spirited.
Kelsey Floyd's Portfolio of Diverse Creations
Her range of work includes several noteworthy pieces, each carrying its own personality and story. The Runa Jar, is a testament to her ability to infuse life into clay, reflecting the meticulous process of being hand-thrown, sculpted, trimmed, and fired in a kiln twice, with chains crafted and sealed by hand for added protection.
Another remarkable piece is the Arwen Jar, echoing the seamless amalgamation of unique vase shapes with chains made of clay, showcasing her expansive skill set and innovative design approach.
The Abrazo Vase, Effie Vase, and the Retta Vase are exemplary pieces illustrating Kelsey's pursuit of artistic excellence by combining materials and crafts techniques. The hand-thrown curvy ceramic combined with the pine needle creates an intriguing materiality, finished with a black-speckled texture on the natural stone color. These pieces have gone through the creative process of being hand-thrown, hand-sculpted, trimmed, fired in a kiln, glazed, fired in a kiln once more, and the pine needle is woven by hand.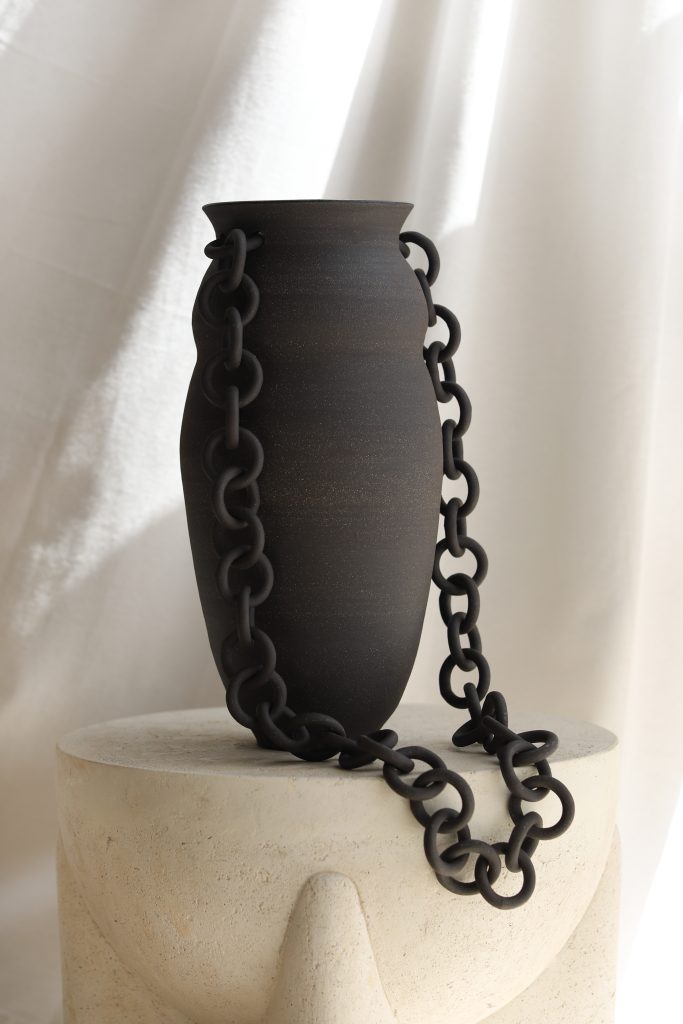 The Palo Vase Stands out as one of Kelsey's larger-scale creations, demonstrating her ability to master clay by the wheel.
The journey of her creations doesn't stop there, with the Lucie Vase adding to the more minimalistic tapestry of her portfolio. It manifests her form language and skill in a simple way, embodying the artistic finesse and characteristic of making ceramic chains.
Last, but not least, the Vik IV Vase, a premium piece stands as a beacon of her artistic journey with an overwhelming amount of ceramic chains covering the vessel, epitomizing the refined elegance and intricate craftsmanship synonymous with Kelsey Floyd Pottery.
Traversing the Artistic Landscape
Kelsey Floyd's artistic journey began as a tranquil hobby during the unprecedented times of the COVID-19 pandemic. It was a refuge, a place of solace where she could immerse herself in the world of art that she had always adored. With her first potter's wheel and a handful of clay, she embarked on a journey that would see her transform from a hobbyist to an artist with her own unique vision and style.
Since her humble beginnings in October 2020 with just four pieces she desired to sell, Kelsey Floyd has seen her craft evolve and flourish. Her pieces have graced the renowned 1000 Vases exhibition in Paris, France, a platform dedicated to showcasing the works of independent artists from around the globe.
Social Media Prowess
Kelsey's commitment to her craft and her innovative approach to pottery has led to substantial success, with her studio rapidly increasing sales. Her ever-growing follower base on her personal and business Instagram accounts, and TikTok, highlight the resonance and appreciation her creations have garnered.
Kelsey has harnessed the power of social media to expand her brand and connect with a global audience, leveraging her existing lifestyle content following to foster the growth of her pottery brand. Her authentic interactions and vulnerability on platforms like Instagram and TikTok serve as an inspiration and guide for aspiring creators and entrepreneurs, underscoring the potential of social media as a tool for business development and genuine connection.
Final Reflections
Kelsey Floyd's journey stands as a shining example of how personality and passion, coupled with dedication and skill, can transform a hobby into a successful enterprise. The boundless possibilities inherent in the pursuit of art and creation are evident in each piece she crafts, and her story continues to inspire and ignite the artistic flame within many.
Shop Available Pieces by Kelsey Floyd on Adorno