Tanja Pak: An Exploration of the Human Condition through Glass
The apparent simplicity of Tanja Pak's creations conceals the complexity of the finished work and the intensity of her quest to achieve tranquillity in the form. "I don't want anything redundant ", Pak says talking from her Ljubjana studio, "every single bit in my work has to have a reason for being part of it. If anything is redundant, I remove it. I strive to capture the feeling in the material, so that it almost disappears as a material thing. I want to capture the essence of a thought, a dream, yearning." This approach needs absolute honesty. The process of subtraction appears very much to be her way of restraining the purity of the moment.
Tanja Pak was born in Slovenia and in her hometown Rogaška Slatina she became acquainted with glass at a very early age. After graduating in industrial design from the Academy of Fine Arts in Ljubljana in 1994, she approached the world of glass art during her MA studies at the Royal College of Art in London. She continued her studies in numerous fellowships and residencies, mostly in the USA and Europe. Enraptured by the elusiveness and depth of glass, she began to explore the material's boundaries. "Glass presents a constant challenge", explains the Slovenian designer, "its ethereal and elusive image helps me convey and evoke emotions." Her frame of mind is evident in her "Breath" series: hand-blown opaline glass amorphous objects that, rather than replicating a form itself, strive to capture intangible sensations, such as the essence of a breath, a moment of time in its silent stillness.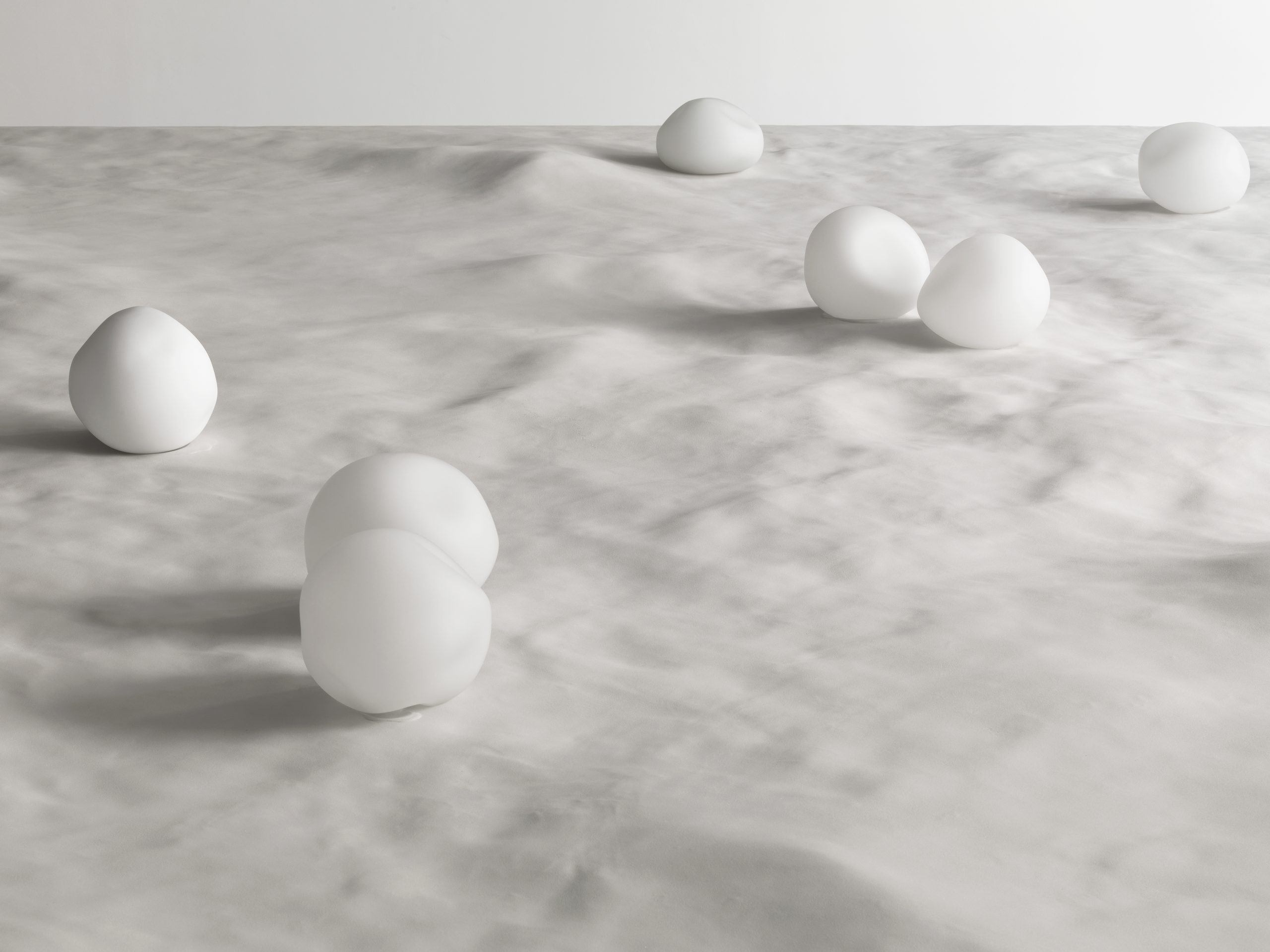 The glass works produced by Tanja Pak are always the result of a search for the intangible presentation of fragility beyond the material presence in her artworks, or for fluidity in her design works that correspond to her perception of glass. She works mainly in the spectrum of clear, white, and black. "Colour is not part of my vocabulary", she says, "I simply don't think in it, it would say too much. It doesn't leave enough space for imagination." Instead of using colour, Pak prefers to modulate light and shadow to create vibrations and movements. The outcome of this approach is evident both in the "Cloudy" collection, which is characterised by the subtle subtraction of glass that creates a kind of opaline mist on the surface and in the design of the "Flow" tableware collection, which is distinguished by sinuous waves along the body of the objects that remind us of the importance of maintaining the purity of drinking water, one of nature's greatest riches.
A curated selection of pieces by Tanja Pak is available for purchase at ADORNO. Click here to explore Pak's showroom >
---
BIO
Tanja Pak achieved a Master's degree in art at the Royal College of Art, having graduated in industrial design from the Academy of Fine Art of the University of Ljubljana, Slovenia, where she is now a professor, heading the Glass and Ceramics department. She is creatively committed to sculpture, artistic spatial installations and the design of functional glass objects.
Pak exhibits worldwide. Her work is part of many collections and public spaces. She won artist residencies in studios and museums around the world, including The Corning Museum of Glass, Creative Glass Center of America, Pilchuck and Musée du Verre in France.

Pak has received many international art and design awards, among them two Red Dot Honourable Mentions and Arte Laguna special prize. Her work has been selected for the New Glass Review four times and was among many important glass competition finalists, such as the Kanazawa International Exhibition, European Glass Context and other juried or curated exhibitions.
In her recent artworks, Pak has been delving into feelings of solitude, and loneliness in the individual's inner world. She has been exposing the search for closeness, the fragile nature of interpersonal bonds and relationships, relating the flimsiness of our unity in the face of indivisibility when it comes to our integral whole.
Currently, Pak works in her studio in Ljubljana.