"Out of the Box": Paving the Way to a More Inclusive Future for Belgian Design
"Contemporary Design Market wants to question our understanding of design, and make the event – and so the Belgian design scene – more inclusive. I took this new path of CDM as a starting point, but I decided to break it open, looking at people who colour outside the lines in all possible ways."
– Elien Haentjens, curator of "Out of the Box"
Shop the full "Out of the Box" collection >
ADORNO is pleased to announce "Out of the Box", a Belgian collection created as part of the continued collaboration with the Contemporary Design Market (CDM) currently in its fourth edition, taking place 24-25 September, and with the support of Flanders DC and Wallonie-Bruxelles International.
Set inside the historic Gare Maritime site at Tour and Taxis, both emerging talents and established makers meet to represent and promote this year's theme of multiculturalism and diversity. Curated by art historian and design journalist Elien Haentjens, "Out of the Box" goes beyond the Market's mission as it "look[s] at people who colour outside the lines in all possible ways".
United by their common desire to push boundaries, be it through their use of material, technique, or narrative, the designers featured in this collection include Bram Kerkhofs, Carl Hultin (CASH), Elisabeth Baeza, Fractall (by Arne Desmet), Gilles Mayk Navangi, Lou Van 't Riet, Nicolas Erauw, Noro Khachatryan, Pieter Bostoen, Studio PART, and Thibeau Scarcériaux.
Belgium has been a breeding ground for radical design since a lack of distinct nationalist pride and a historic emphasis on artistic education gave birth to a particularly vibrant avant-gardism that has been internationally recognised. According to Haentjens, this manifests itself in "[d]esigners leav[ing] behind strict typologies, us[ing] rather banal materials to create high-end pieces, and [a flirtation] with the boundaries between design and art, design and crafts, and unique handmade pieces and industrial mass production."
© formundrausch | ADORNO
"While multiculturalism is much more common in the theatre, music, or arts scene, it still stays quite limited in the design scene. In this sense, the will of Contemporary Design Market to challenge this and stimulate inclusivity from [the] inside out is very welcome. It is the start of a new, more inclusive era."
Questioning the status quo is nothing new in the Belgium design scene. Since the country has historically been a melting pot of cultures, it has always fostered a vibrant exchange of ideas. This has found expression in design pieces that are intentionally thought-provoking and simultaneously open up conversations regarding pressing social issues. This year's Young Guest of Honour, Thibeau Scarcériaux, exemplifies the contemplative nature of Belgian design through his work "c.1[bpg]". "By literally taking his glass chair to a shooting club, Thibeau Scarcériaux plays with contrasts such as perfection and imperfection, creating and destroying, beauty and ugliness," Haentjens explains. "[In] doing so, he raises questions that are not only relevant in the contemporary design scene in general, but also in the pursuit of creating a more inclusive design scene. Besides, the chair reminds us of the fact that war can come back at all times, and that we're just lucky to be born in a place and period of peace."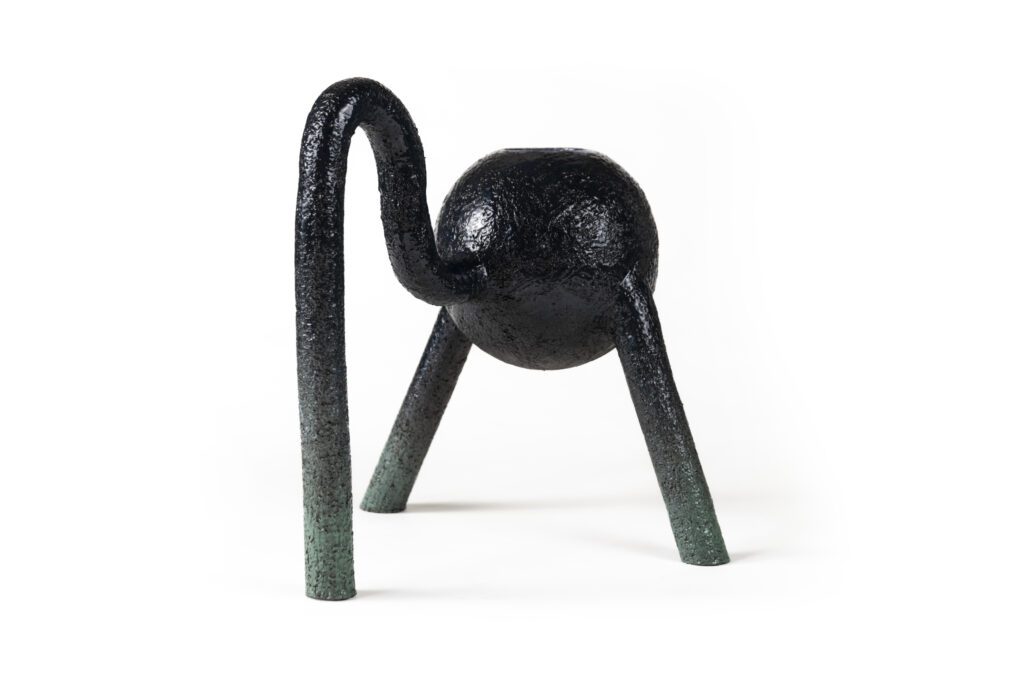 In the same vein, artists Gilles Mayk Navangi and Pieter Bostoen raise awareness for animal welfare through their "DEARTH" series. For this year's inaugural Binôme project, which aims to bring together artists from different cultural backgrounds through creating shared work, Navangi and Bostoen, "[i]nspired by endangered species and the power of clay as a direct product of mother earth, […] created ten sculptural objects, which beautifully mix both their personalities and artistic practices," Haentjens testifies. Part of the profits from the "DEARTH" series will be donated to an organisation defending animal rights in the Virunga National Park in the Democratic Republic of the Congo.
© formundrausch | ADORNO
"The freedom of the Belgian context and the avant-gardist mindset gives designers the opportunity to stay close to their own artistic concept."
Belgian designers are also predisposed to break the moulds of conventional norms of beauty through their usage of non-traditional materials and techniques, thereby testing the limits of conservative definitions of design – a red thread throughout this collection. Elisabeth Baeza's "Soliflore" turns PVC tubing into a beautiful piece of modern furniture; similarly, Fractall's "Disrupt" tables make the industrial appear natural through irregular patterns. Whilst Nicolas Erauw demonstrates Belgian ingenuity through his self-made machine, "TONK", used to create wax drippings for the table/lamp "TA-010", Studio PART's meticulously handcrafted shelving system, "System P5 – Bar", transforms the act of construction into an aesthetic experience. These works are a testament to Haentjens' curatorial approach: "The roots of the participants are one element, but the way they deal with functionality, their use of materials, and their broad understanding of the discipline are others. From all participants, I curated the ones that stand out, for one or more of these arguments."
"To stimulate [representation and inclusivity], it would be good to also strive towards a broader definition of design, opening up the still too generalised mindset about the discipline."
As a whole, "Out of the Box" stands for the everchanging and experimental design scene that is Belgium. The featured makers are not only rule breaking and unconventional in every step of the design process, but are also transformative and trendsetting on a larger, international scale. From Carl Hultin challenging the concept of the chair itself and his cultural background through "Look Down" to Lou Van 't Riet's clever and interactive composition of steel sheets, "Triptych Montréal", the collection manages to capture an accurate snapshot of the contemporary Belgian design scene and its experimental and self-reflective spirit.
On the other hand, Bram Kerkhofs' preoccupation with harmony and geometry in "Grid Lamp" and Noro Khachatryan's minimalistic archetypes in "POST", whose functionality can be determined by its user, represent the opposing end of the spectrum – Belgian ingenuity expressed through simplicity. The multitude of personal histories, materials, techniques, and design philosophies employed and, at times, manipulated by Belgian designers as part of this year's Contemporary Design Market speak for an exciting and promising future ahead. "[B]ecause of societal evolution the design scene will – hopefully – become much more inclusive, bringing together perspectives from people with all kinds of cultural backgrounds. These new perspectives can definitely nourish the Belgian design scene and challenge her lovers," Haentjens predicts.
---
Meet the Curator of "Out of the Box"
As a freelance journalist, Elien Haentjens has specialised in the fields of design and art since 2006. By doing so, she has further developed the expertise she gained while studying Art History at KU Leuven and Journalism at Vlekho in Brussels. Over the past ten years, she has interviewed numerous interesting designers, artists, gallery owners and entrepreneurs.
Since 2013, she has used this knowledge to curate exhibitions about Belgian design in Brazil. While she selected and showed finished pieces at first, she decided to intensify the Belgian-Brazilian dialogue by inviting Belgian designers to work with Brazilian artisans. This incentive resulted in two projects: Caro Barro and Joias.
Through design and art, she wants to make people confident enough to open up to others. This way, she wants to stimulate the global dialogue and at the same time ensure that people don't lose their own identity and local culture. This intercultural human dialogue gives the objects their emotional power.