Fine Craft & Fine Art: 10 Makers Working at the Intersection of Disciplines
"Many of these objects seem to have come into being with a clear purpose… But they are also at the same time simply themselves, artworks in their own right."
– Åsa Jungnelius
The intersection of fine art and craft has a long-standing and contentious history. Craft has historically been understood as "women's work", including textile and ceramics, and was long seen outside of the realm of fine art, a realm which has historically been dominated by male artists with painting and sculpture practices. How do we define what is fine art and what is craft? Is it merely the idea of whether an object is functional or not? Do these practices interconnect – and, if so, how?
Through their practices, these designers blur the "boundary" of fine art and craft – they produce pieces that are both functional and non-functional and, simultaneously, highlight traditional craftsmanship, materials, and techniques. They make use of innovative combinations of materials, alternative methods of creation, and stand-out sculptural, formal languages. Defining our world of creative objects seems to become a more and more impossible task, one that, frankly, may become obsolete in the near future – or perhaps it already has. Aren't they all just creative objects anyway?
Eyvind Solli: Norway
Eyvind Solli's objects may seem surreal when first encountered and to say that they defy gravity would be a clichéd understatement. Creating vessels with a series of limitations, for example, a 10 kg limit of clay or no glazing, he pushes his material and his art form to its outer most limits. These ceramic vessels exist in a state of constant struggle and turmoil, or so it may seem. His works balance on the edge of podiums, stand high off the ground on self welded stilts or stacked on top of each other, resulting in the feeling that just the slightest wrong breath may cause every one of the fragile works to fall shattering to the ground. The works of art can be appreciated for their beauty in terms of form and texture or their power to command such strong energy in a space and within viewers, either way, their presence speaks for itself.
Gurli Elbækgaard: Denmark
Through an infusion of traditional techniques and the unpredictable or "ugly" side of aesthetics, Gurli Elbækgaard's artistic practice experiments with the possibilities and limits of ceramic. Classically trained as a ceramist at the Kolding School of Design and the Arts and Crafts School in Bergen, Elbækgaard found inspiration from the mountainous Norwegian landscape – it is from here that she takes textural, tactile, and visual inspiration. Her "Geomorphology" series speaks directly to this inspiration through their rugged textures and amorphous forms, presenting the viewer with a visually unique, yet technically classic, work.
Ethnicloom: Turkey
Founded in 2015 by Elif Gönensay, Ethnicloom intertwines the heritage and tradition of weaving with the creation of luxury weaves and accessories. Gönensay drew on her interest in textile, pattern, and design to ultimately bring the product and fabrication process together. In doing so, focus is placed on the craft itself with the craftsmanship of the Anatolian artisans highlighted through unique weaving techniques and collaboration. Ethnicloom's work includes "Sedirette" which makes use of traditional weaving techniques, producing a multitude of tactile textures and creating an engaging visual impression.
Nathalie Van der Massen: Belgium
With a background in graphic design, architecture, and textile, Nathalie Van der Massen explores the possibilities of textiles within architectural spaces. In relation to textile as craft, she is interested in the intersection between mechanical industrial production and technical craftsmanship, making use of experimental technical practices in her own work. In her experimental piece "Avalon", Van der Massen emphasises tactility through the combination of materials and technical industrial production. Combined, the weaving process and her use of Mohair create a consciously textured and "misty" surface that speaks to her interest in natural materials, tactile surfaces, and traditional craftsmanship.
Philipp Weber: Germany
Guided by questions related to the contemporary meaning and significance of craft and craftsmanship, German designer Philipp Weber explores the process and possibilities of production through various media including glass, carbon, and textile. As a series, "Strange Symphony" juxtaposes the craft of glass blowing with music through Weber's valved design (similar to a trumpet). The outcome allows the glassblower to consider new approaches to their craft, manipulating the material in alternative ways to produce visually captivating, textured, and multi-faceted pieces. Weber thus shifts focus back to the process of creation and transforms the craft to symphony.
Ragnhild Hjalmarsdottir Højgaard: Denmark
Originally from the Faroe Islands and now based in Copenhagen, Ragnhild Hjalmarsdottir Højgaard's artistic and design practice rethinks the use and potential of Faroese wool. Through an exploration of traditional craftsmanship alongside new materials and methods, Højgaard offers viewers with a strong sense of tactility and materiality. These notions are demonstrated in her series '5' which uses natural, un-dyed Faroese wool and places focus on the material and texture of the wool as well as the method of their creation.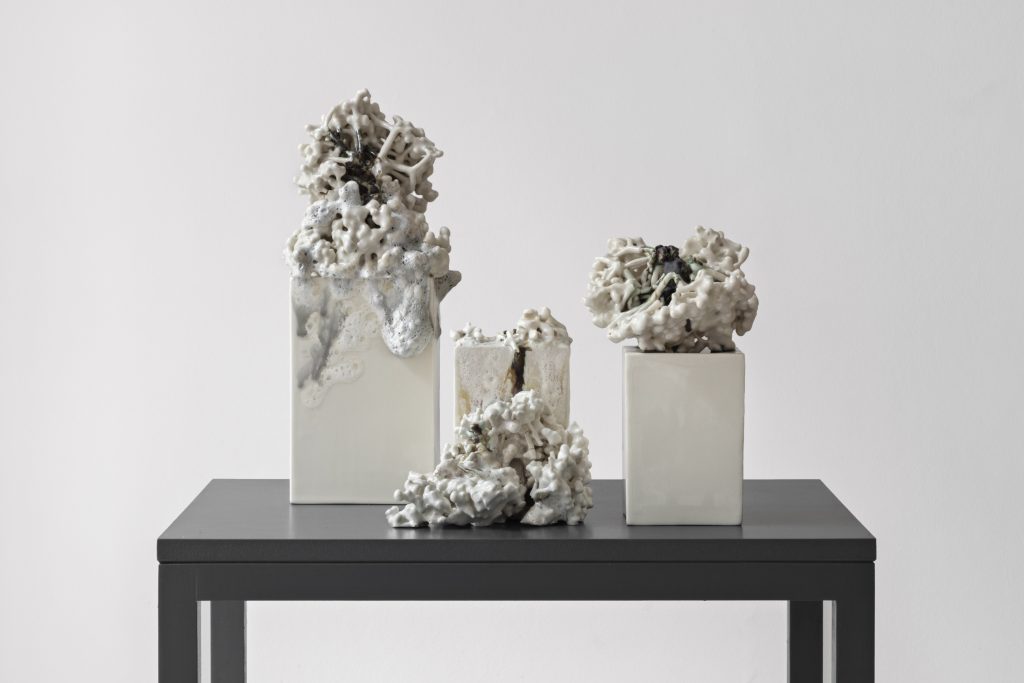 Signe Fendholdt, "BEHOLD:BECOME" series
Signe Fensholdt: Denmark
Copenhagen-based ceramicist, Signe Fensholdt graduated from the Royal Academy of Fine Arts just last year in 2018 and her point of view with the age-old craft is at the forefront of experimentation. The forms presented in her series "BEHOLD:BECOME" are at odds with themselves: the structure is pitted against organic growth while smooth, white, technically perfect porcelain meets intricate and texturally rich glazing. These resulting works resemble living masses atop their very own custom pedestals, created by using collected plant materials which burn off in a second firing. Fensholdt's work embodies the future of her craft and the essence of the growing movement in the design and craft world towards indefinable creative objects.

Kevin Oyen, "Magic Bean"
Kevin Oyen: Belgium
Trained as an artisan metalworker, artist and designer Kevin Oyen works with metal in innovative and unexpected ways to create unique, yet refined pieces. "Magic Bean" portrays the craftsmanship of his practice and deep knowledge of his craft – it consists of thousands of steel waste pieces welded together to create a new, flexible metal material held in form over a steel structure. Oyen's experimentation with traditional techniques and materials has allowed him to develop a style and craft that brings the history of metalworking together with an innovative future.
Nikolas Piper: Spain
Nikolas Piper's objects span the space between art and design, creating what Piper refers to as "furniture sculpture". Since his first foray into metallurgy in 1994, the designer has sought to create unique, elegant, and timeless pieces for his clients. By creating single piece and small, limited edition collections, Piper is able to finesse his practice and develop designs which fit the needs, desires, and personalities of his clients. Material, technique, and craftsmanship come into focus as each unique piece is created, transforming raw materials into sensually-tactile and visually-captivating objects.
Åsa Jungnelius: Sweden
Åsa Jungnelius is a visual artist who, over an immense range of material and scale, utilizes and exploits a symbolic and instinctual language of the body to hold a mirror onto contemporary society, questioning social constructions. Her sculptural works range from hand-held and anatomically sized objects meant for a domestic setting, including candle holders and snack bowls, to monumental sized works including landscape art and even a future train station. Across all these mediums and scale, a strong visual language and consistent surface persist. Multi-colored, blown-glass, wall-mounted candlestick holders complete with fluorescent pubic hair bring a light air to the more serious political and social subject matter, this intersectionality of Jungnelius's works acts as the perfect commentary for the time in which we live.