Solenne Belloir: Transforming Ordinary Life into Otherworldly Ceramics
"I think what I do is only a reinterpretation of what I see every day, mixed with a bit of magic, magic being colors, textures, and small useless details that I love. But I don't have a time where I '[do] research', everyday [life] is research, everything can inspire."
– Solenne Belloir
View Solenne Belloir's showroom, including "Les petites cheminées" Candleholder >
The universe created by French ceramicist Solenne Belloir is filled with pieces – from vases to tables – characterised by organic and sensual shapes, mixed with an almost magical sense of wonder. Yet the inspiration behind her unique aesthetic can be found in nature and urban landscapes. Belloir was first introduced to the art world through her Film studies, an experience that shaped the way she pays attention to certain details, such as the roofs or skyline of her home, Paris. What crystallises the artist's oeuvre is a fascination with the process of creation itself and a persistent commitment to conceiving an otherworldly aesthetic, a reimagining of our idea of "beauty".
Everyday life with its ordinariness is the environment in which Belloir finds inspiration. Given her perceptive nature, conducting research consists of simply living life and observing the things others usually ignore. Belloir's practice is defined by a relentless ambition to realise her ideas and thereby, fulfil an urge to create works that simultaneously evoke feelings of joy and calmness in her. This manifests itself in Belloir constant experimenting with materials, techniques, and glazes. An example of this can be seen in Belloir's series of chromed pieces, which juxtaposes the naturally uneven texture of clay with the polished finish of chrome, or her intricate candleholders, such as "Les petites cheminées" and "Triton".
A recent milestone in Belloir's artistic career, namely her debut of large-scale furniture at this year's Paris Design Week, 8-17 September, also perfectly captures the diversity of her creative output and obsession with tapping into unknown territory – in this case, size and technique. Belloir had previously created a series of miniature furniture pieces, "Le petites chaises", which started as amusement and now form the foundation for her upcoming life-sized furniture.
What is your design philosophy behind your ceramic practice? Has your educational background in Film influenced it?
When working on a piece I always try to do something that I would like to have in my own space. In other words, I [create] each piece as if I will keep all of them. [Meaning,] I really need to like them because I'm going to look at them every day. It feels like I'm my own adviser when I'm not sure about something (e.g., forms, colors). I honestly ask myself if I'd like that for myself.
Studying film was great and very inspirational. I discovered a world that I didn't know well at that time and I think it made me enter the art world. More specifically, I think these studies helped me with the communication part of my job now. Having a background in taking pictures or videos always comes in handy in 2022…
Nature and urban environments, such as your home, Paris, inspire your practice. Could you walk us through your creative process? For instance, how do you conduct research for your work?
I think that what I do is only a reinterpretation of what I see every day, mixed with a bit of magic, magic being colors, textures, and small useless details that I love. But I don't have a time where I "[do] research", everyday [life] is research, everything can inspire. The most important part of the creation process is to look around, or more precisely, look up, to the roofs, the skyline, etc. I could do that for hours and hours finding inspiration in most of the forms I see up there. I don't do anything fancy, I just live my life, and with some time I'll have some ideas that I will or will not draw briefly in a notebook. I don't know how to draw so this is just not to forget the general design. The drawing helps me to crystallize the idea and visualize the form.
I'll generally do several drawings of the same piece with variations until I find the one. Frequently I don't and put the idea away until my brain finds it all by itself, and that will generally happen just before falling asleep (or in the shower), but it could take months before it happens, or [sometimes] it never happens. After having thought of which techniques I'm going to use to achieve it, I go for it.
Do you intend to evoke certain emotions in the users of your objects?
I think that part of being an artist is to accept that people will all feel very different things in front of the same piece, and that's what's beautiful too. I know I can't control what people feel, but what I feel making or looking at my pieces is either a joyful excitement or a profound calmness.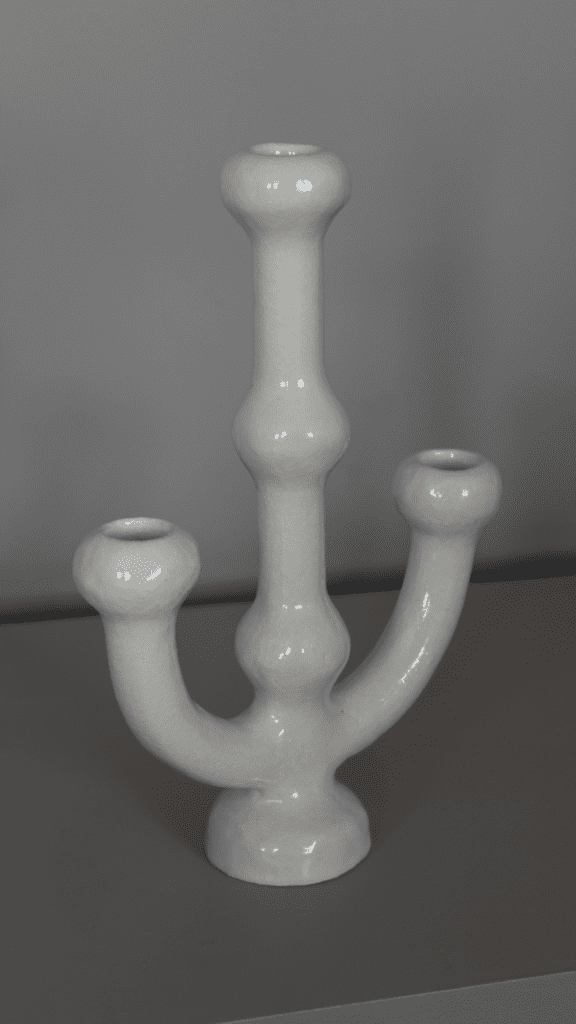 Different types of texture and organic shapes represent a crucial part of your oeuvre. How does this aspect of your practice allow you to experiment with new materials and approaches?
I can get obsessed with a color or texture and will do anything to try to get it even if it is not ceramics related in the first place. Also, sometimes when I get what I wanted so badly I don't like it anymore because I realize it's not me… but the research will always be interesting and full of new opportunities.
Is your recent series of chromed pieces an example of such experimentation?
Yes! I was dying for this texture/color for so long. I'm so happy with it and can't wait to continue experimenting with mixing clay with other materials.
You have previously stated that "[…] technique [is] a means to achieve dreamed forms." Could you elaborate on what technique(s) you employ to create your unique aesthetic?
I'll do whatever I need to do to get the form that I have in mind. This is why I do hand-building and wheel-throwing. [I mix] lots of different techniques so this is a difficult question to answer. What I can say is that I do extrude a lot of clay in a small or big extruder. The extruder gives me a coil or a tube, which is the perfect form for me to begin with, whether it's a hand-building piece, a handle on a thrown piece or the feet of a future side table.
Regarding the colors and textures, it's kind of the same. I'm doing lots of different techniques, of course, there is glaze, but also tinted clay, raw clay, mixed clay, slip applied on clay…
"To me, the technique has no interest in itself. I have an idea in mind and I'm ready to try anything that will work to achieve it, discovering new possibilities along the way."
For this year's Paris Design Week, you have created large-scale furniture for the first time. As you have previously solely focused on miniature pieces, such as your "Les petites chaises" series, what changed in your process?
What projects can we expect from you in the future, perhaps some more furniture?
Yes, I want and will do more side tables but not only [that], I love to do furniture in general. I'm really into interiors, spaces, decoration, … so for me, making furniture is a way to create my own reality, my own vision of a space that I would like to live in and share.
---
Bio
Attracted by the constructive aspect of clay coils, she does not hesitate to abandon it in favour of the wheel or the plate to create vases, baskets, and sculptures that grow at the rhythm of the wild grass in her imagination. In this way, she succeeds in adorning the objects with extraordinary lightness, using a vocabulary that one would think was borrowed from ballet. Through it, Solenne reminds us that pleasure is taken in creating and fully participating in the charm of objects.