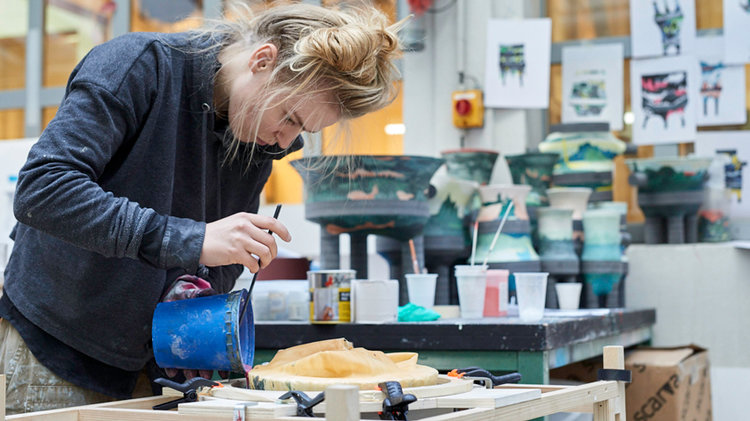 Ragna Ragnarsdóttir: An Exploration of Material, Technique, & Tradition
"Through many errors, failures and a messy library of material testing, I sometimes find something new and exciting in-between my mess. I have to trust a lot in my embodied and subconscious knowledge and let activity and acquaintance drive me."
– Ragna Ragnarsdóttir

View Ragna Ragnarsdóttir's works, including "Coral Vase"
With connections to the country's breathtaking landscapes and strong cultural heritage, as well as a focus on sustainability, Iceland's design scene is filled with artists and designers who seek to bring attention to contemporary issues through their work. As a relatively new design scene, Iceland's artists have been able to explore different facets of their practices, allowing for a range of approaches and true artistic individuality. Culture, tradition, and design are constantly in flux and it is through this fluidity that these artists are able to integrate the traditional with the contemporary, creating a language which continues to shape the Icelandic design scene as it grows. In this space, innovation meets history; environmental issues meet voices working towards sustainable solutions; and artists are free to push the boundaries of their chosen fields.
Investigating the possibilities of material, technique, and form, Icelandic designer Ragna Ragnarsdóttir displays her own artistic individuality through an intuitive creative process and a loosening of control. Experimentation characterises her innovative approach to sculpture, using materials in alternative ways to create pieces which have a life of their own. Techniques developed through her explorations of latex, resin, and silicon are used to create pieces with unique, colourful patterns reminiscent of the Icelandic landscape. The freedom of her multi-disciplinary approach has allowed her to mix disciplines, cross assumed boundaries, and reconsider the ways in which she approaches the creation of new pieces. Through her practice, Ragna Ragnarsdóttir continually develops her creative process and produces works which focus on the interaction between viewer and object, demonstrating an overt technical and artistic individuality.
Can you describe how your work has been influenced or draws on traditional forms or techniques?
I work somewhere in-between art, design and craftsmanship. My work includes furniture, home product and sculptures. I'm an explorer when it comes to my work; I explore the formal and technical potential of new manufacturing processes that often result in surprising and imaginative objects. A few years ago, I started playing around with latex, exploring how I could manipulate it in various shapes. In the beginning, I was attaching it to tables around trying to find interesting shapes. From that, I made wooden frames so I could attach the latex in solid positions for casting objects. I work with mixed materials without limiting myself to existing industry or craft, but taking control in producing whatever I can think of and the material allows me to do. All of the materials that I'm using at the moment such as resin, silicon and latex don't need high tech machinery so I can produce everything in my own studio.


"I work with mixed materials without limiting myself to existing industry or craft, but taking control in producing whatever I can think of and the material allows me to do."
In terms of experimental design, are there aspects of your design practice that go "against" tradition?
I don't think it is going against tradition, it's more not limiting yourself to one existing tradition, but taking control in mixing them up. When I start a project, I don't necessarily search for something that is logistical or rational, it's more of an exploration into an exciting area. Working and experimenting with mixed materials leads me into approaching design in an exciting way. It is this balance, between designing and making; in this process, the material sometimes takes over the design and often it feels like they are taking the lead and you try to find a balance in-between what they want to do and you are trying to do. I, for example, almost never use drawing while designing, its more of a tool I use after the pieces have been made to communicate the design to others.
Iceland can be understood as a relatively new design scene – has this allowed you to push the boundaries of your own practice? How?
We have a very small but broad design scene that is a little bit all over the place. I personally think it is a very good environment to thrive in, it allows you to find your own voice in this little community where somehow everything and nothing is acknowledged.


From your own point of view, in which ways do your pieces speak to Icelandic culture and design? In which ways do they not?
My pieces are quite crazy and colorful and do not carry the minimalism which has been dominant in Iceland for the last decades. My objects, perhaps, more relate to the mystical Icelandic culture and lead the viewers imagination to Icelandic fairy tales and the country's unique nature.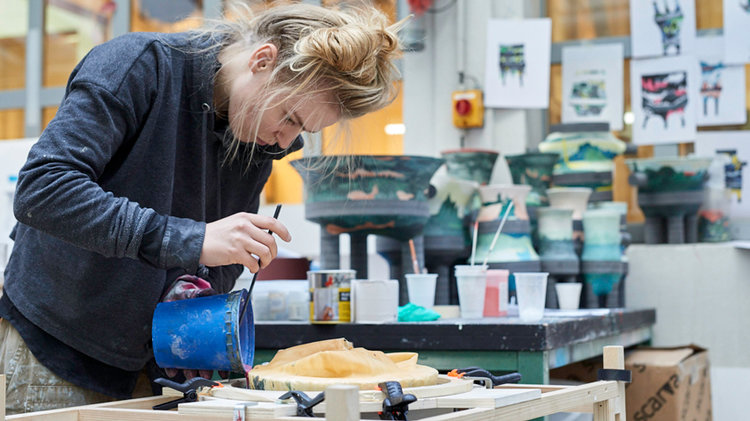 "When I start a project, I don't necessarily search for something that is logistical or rational, it's more of an exploration into an exciting area."
Exploring alternative materials and new techniques play a large part in your practice – has there been an experiment that has greatly influenced how you approach your work?
I think it's when I accepted the fact that I will never be a specialist in any one practice, that somehow gave me the freedom to explore without predefined boundaries and let the activity and acquaintance drive me. Through many errors, failures and a messy library of material testing, I sometimes find something new and exciting in-between my mess. I have to trust a lot in my embodied and subconscious knowledge and let activity and acquaintance drive me.
Finally, through your work, how do you approach the idea of "individuality"?
I think individuality is something you build up with time and practice. Sometimes it's the stories behind the objects, sometimes it's creating positive and sustained interaction between people and my work, it's the philosophy I follow and each and every design decision I make.
Bio
Ragna Ragnarsdóttir (born 1988 in Iceland) graduated with honors from Ensci Les Atelier in 2016. Working around the intersection of design, art, craftsmanship, and production she explores a creative process that enables the design of objects more intuitively. Instead of designing objects from existing industrial or craft techniques, she searches for new processes where the design is a direct result of the production. Always working with accessible materials she takes care of mixing opposite mediums, using materials in untypical ways or making them take an opposite look where the result is a particular product or installation. With her experimental approaches, she hopes to create a positive interaction between the user and the product.