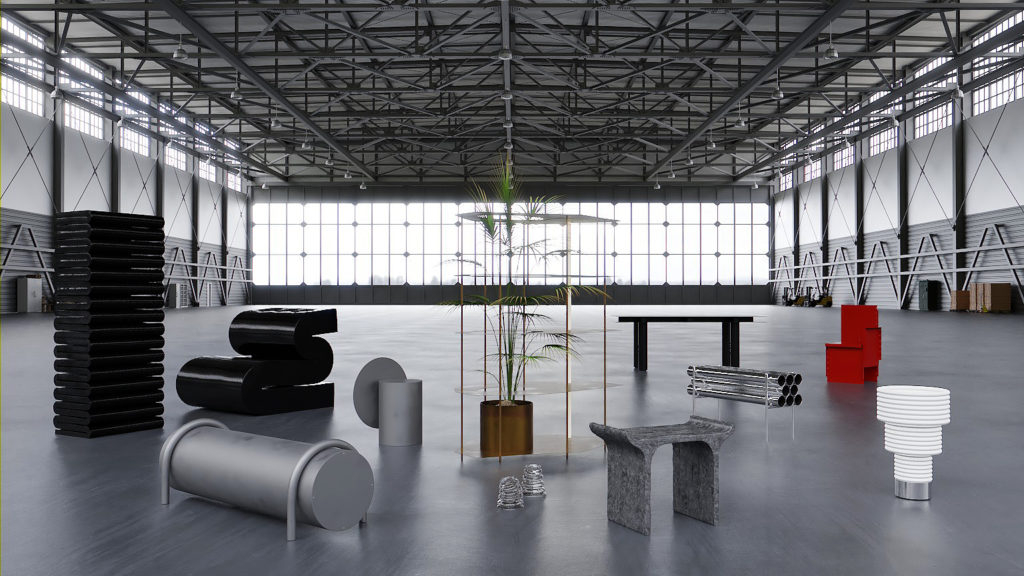 HACKING INDUSTRY: A Collection Curated by Juan García Mosqueda
"[This collection] presents studios which generally are not interested in the 'spectacular', but rather on problematizing the 'normal'; studios interested less in the 'innovative' and more on the 'banal', values usually looked-down upon in design culture."
– Juan García Mosqueda, curator of "HACKING INDUSTRY"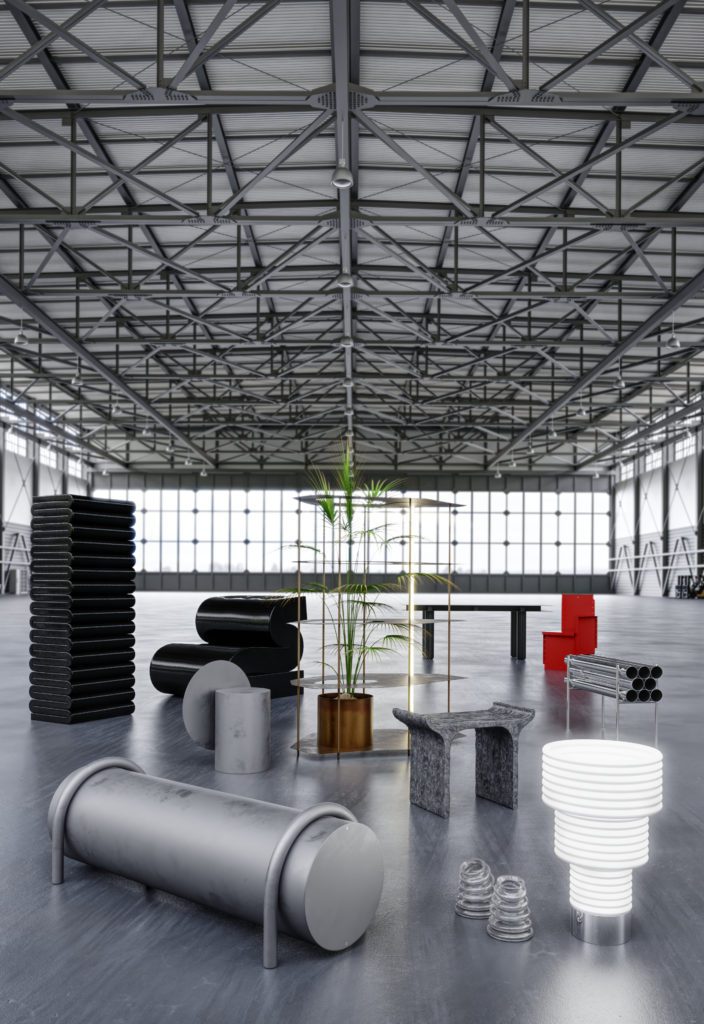 All 3D renders by Nazzareno Giannelli, styled by Martin Clausen.
View the full "HACKING INDUSTRY" collection
Gathered in an empty warehouse in Buenos Aires, Argentina, "HACKING INDUSTRY" explores the intertwined relationship between design and industry. The collection, composed of stand-out pieces from exhibitions and projects curated over the last two years, investigates the possibilities and limitations of contemporary production processes and argues for a re-introduction of abstracted and playful experimentation in design, breaking the mould of contemporary commercial creation. This collection has been curated by Juan García Mosqueda, who, as founder and curator of contemporary design platform Chamber and the independent initiative QUICK TINY SHOWS, brings his passion for progressive art and design to highlight an alternative direction for design.
"HACKING INDUSTRY" brings together a talented group of designers from North and South America whose work speaks to an experimental, trial-and-error methodology of creation. Process is essential in this approach, with makers actively engaging with both successful and unsuccessful developments to achieve their end goal. As described in Mosqueda's curatorial statement, the collection re-orients "Robert Smithson's 'abstract geology' idea to one of 'abstract technology' as a possible methodology [allowing] these designers to incorporate not only standard, off-the-shelf products but also fairly boring/dumb manufacturing processes as a 'scrambled museum where there is a text that contains limits and barriers that evade the rational, and social structures' that confine design". In doing so, the pieces reflect on the contemporary moment, speculating on common norms and making use of seemingly banal alterations.
This collection features work by Buffet Collective, Deon Rubi, IT-MET, Jumbo, MOS Architects, Objects of Common Interest, Ries Studio, and Rodrigo Bravo F..
Interview with curator Juan García Mosqueda, curator of "HACKING INDUSTRY"
The "HACKING INDUSTRY" collection is derived from stand-out pieces from previous exhibitions of QUICK TINY SHOWS. Can you tell us a bit about the QUICK TINY SHOWS initiative?
QUICK TINY SHOWS is an independent initiative started in Buenos Aires, Argentina to promote the exhibition of progressive art and design ideas in new contexts. Founded in 2018 by Ries Studio and myself, this unique platform hopes to play a vital role in the region and open new doors for experimental thinkers and practitioners who are part of a global, contemporary discourse. Each edition is up on display only for two days. We wish these to be rapid, work-in progress exercises in curatorial work that challenge traditional institutional exhibition formats.
With your background as both a curator and a designer, which aspects of a designer's practice draw your attention? Why?
Consistency in the narrative. I am mostly into studios that have a solid foundation from which to keep building work from and a certain kinship in terms of similar interests. Once you have that, the collections themselves can take you anywhere. Establishing a horizontal relationship between curator and designers is essential to get the most out of collaborations.
How have you approached the curation of "HACKING INDUSTRY"?
I noticed that there is a common thread between some architecture and design studios all over the world which revolves around these small hacks or interventions of fairly standard manufacturing processes. Studios which generally are not interested in the 'spectacular', but rather on problematizing the 'normal'; studios interested less in the 'innovative' and more on the 'banal', values usually looked-down upon in design culture.
In your curatorial statement, you express a desire for a re-introduction of playful or leisurely experimentation in production processes. How do the participating designers' practices work to illustrate this?
Play, boredom, leisure are all strategies that are key to developing these kinds of objects. Sometimes called dumb-technics, most of the material manipulations that are evidenced here are usually done by trial and error, experimentation, and alternative readings of production processes. I've seen the process of some of these from day one, and they embrace failure as much as success.
With reference to the uncertainty of the last year and a move towards smaller and more digital exhibition tactics, what do you see for the future of the collectible design industry?
There is a lot of useless, trivial talk around NFTs at the moment. I would not dare to predict anything around that, as much as I would not dare to talk about the volatile future of cryptocurrency. So far, it has been used poorly, same as with VR, AR, and other alternative realities, but maybe there is something there to explore. I doubt that physical galleries, museums, and traditional physical shows will die, that is completely absurd. It reminds me of the conversation around the end of graphic design and print in the 2010's which, of course as we all know, led to better zines and better books than ever before, and the strengthening of the profession. I think that this is a similar case. We will see smaller, fewer, but better, physical shows with the help and support of platforms like Adorno to promote the work and help push it to a bigger audience.