Bigtime Studio: Approaching Design through a Scenographic Lens
"Researching before thinking of the outcome and mastering the unexpected is how we enjoy creating new pieces. Creating and searching are two inextricably linked activities that we try to keep in a continuous movement, constantly going back-and-forth between research, concept, and production. We like to think of it as a circle, a circle of Creation."
– Marion Flament & Jimme Cloo of Bigtime Studio

View all of Bigtime Studio's work, including "Fire-Stained Glass"
The eclecticism of the contemporary French design scene is reflected in the twists on long-held traditions, variety of materials and techniques used, and personal experiences presented in each practice. In a design scene with such a strong heritage of art and design, finding a voice and niche can be difficult; the designers presented as part of François Leblanc Di Cicilia's latest collection, "An Undertaken Eclecticism", have done just this, carving out and developing their space in the scene today. In doing so, the scene is constantly evolving, shaped through a diversity of experience and openness of those involved. Experimentation, research, new views of traditionally popular approaches to design, and the integration of different artistic realms all play into this notion of contemporary eclecticism and are represented in the work of the featured design studio presented here.
Bringing their backgrounds in scenography and interest in design together, designers Jimme Cloo and Marion Flament of the Paris-based Bigtime Studio have cultivated a practice which focuses on artistic research and explores new ways of encountering space. Since establishing in 2014, the duo have developed a strong study of materials and our interaction with them, exploring a variety of mediums and methods along the way. An example of this can be seen in their work with light – a medium which provides endless possibilities for experimentation and an opportunity for audiences to re-imagine what light can be in design. Pieces like those in the Ciel series (I, II, & III) or the Curtain series (I, II, & III), for instance, evidence the possibilities and experiences of this medium, presenting viewers with the warm blend of colours seen at sunrise and sunset or the trompe l'oeil created by printed images of light and shadow, respectively.
As described below, Cloo and Flament's experience creating scenographic atmospheres and telling stories through spatial design has been directly translated in their collectible pieces. In turn, these pieces take on new narratives and become their own stories – ones of experimentation, connection, and materiality.
 
Can you describe how your backgrounds in scenography have shaped Bigtime Studio's design practice?
We design objects like we design scenographies, i.e. we think about a story, an atmosphere, and aesthetics before even thinking about the object's function.
Our common education at the School of Decorative Arts in Paris often pushes us instinctively to create starting from a text and to give meaning to a space by making it resonate in relation to a story. The starting point is always a scenario, whether fictional or real. Our objects are imagined as if we were telling a story, that is why the matter of function is very important in our work. [For example], for theater props, we are willing to give priority to visual strength and the magical feeling than can emanate from an object.
As scenographers, we somehow see things from a wider perspective and it is almost impossible for us not to create connection with an environment or with other objects when we are working on new pieces. That is why we enjoy creating series so much, in order to establish a conversation between the different things that we design.
Connections are an essential part of the position of a scenographer. We never work alone and we are very keen on involving other artists, craftsmen, and designers in our creation process.
Research of material and technique appear to be a large part of your practice. In what ways does your focus on research affect or influence how you approach the creation of new pieces?
We like to think things upside down, starting with the material before considering the shape of the piece. When we use a material to experiment, without a precise goal of form, it opens up an infinite source of inspiration. Confronting materials, misusing them, changing their function gives rise to the unexpected that we will then try to master. The curiosity [of getting] to know materials leads us to discover new dialogues between them. Researching before thinking of the outcome and mastering the unexpected is how we enjoy creating new pieces. Creating and searching are two inextricably linked activities that we try to keep in a continuous movement, constantly going back-and-forth between research, concept, and production. We like to think of it as a circle, a circle of Creation.
Giving so much space to experimentation is probably the reason why our objects are mostly unique pieces or part of very small series. It is more amusing to us to master experimentation itself than to completely master a material. Our pieces can be seen as sort of "material manifestos".
The object serves to enhance the process of research [and] questioning of materials, rather than the function of the object itself. There is no practical sense.
Light also plays an important role in your work – for example, the Ciel series and Le Cercle – can you describe why you've been drawn to this aspect of design?
Once again, our background as scenographers has something to do with it. We don't see light in the same way an object designer does. Light has a function, it illuminates; but in theatre and stage design, it is a narrative tool. It gives indications of time, creates optical illusions, transmits emotions, and much more. When we draw an object, light attracts the eye to an area, to a detail, and guides the viewer's imagination. It is related to magic and fantasy. It is material on its own, one of our favorites to experiment with.
Moreover, it is not only important for our luminous objects as in Ciels (I, II, & III) or Le Cercle, which contain artificial light. When we work with glass, for instance, indirect and natural light is essential. In the series Verre de Pierre, light can shine through the material adding a mystical aspect to these pieces.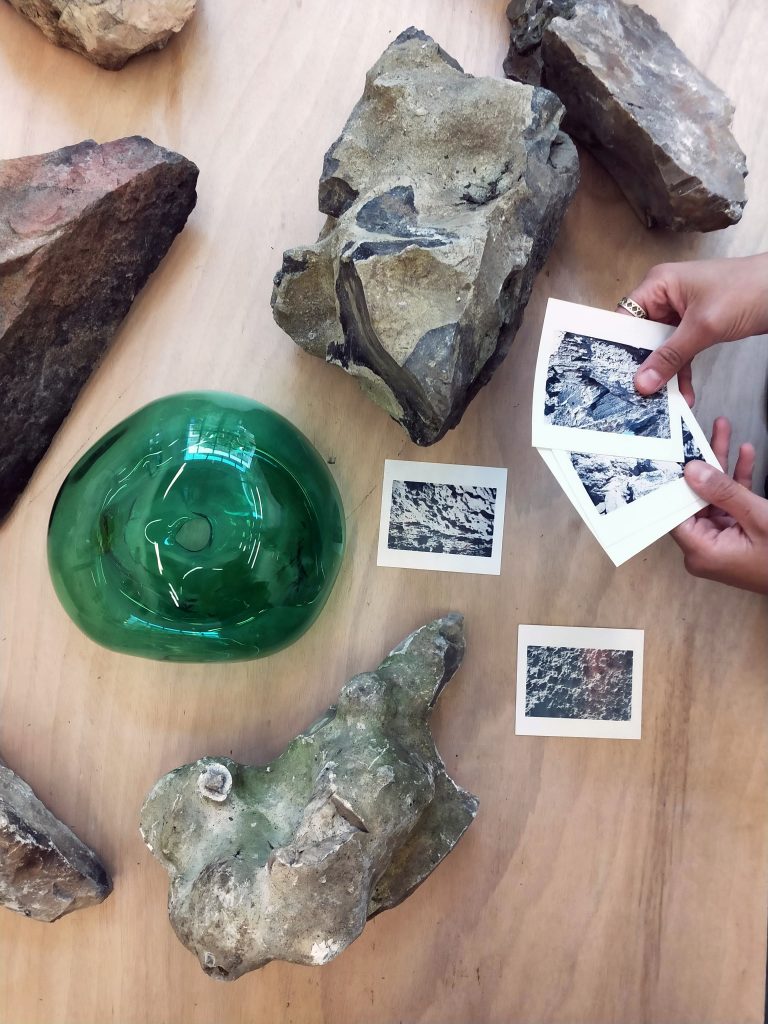 How would you describe the contemporary French design scene? In what way(s) does your practice reflect or fit into this?
The actual French design scene is very diverse. It is undeniable that there is a very qualified and highly competent proportion of designers in France, and who are internationally recognized. Most of them are, of course, very inspiring to us.
Sometimes we get the feeling that French design is too serious and lacks a little bit of humor and simplicity. Young designers are looking for more freedom, less segmentation, and we are willing to be part of this. We consider it essential that Design becomes more related to Art, Crafts, and scenography in order to expand the boundaries of Creativity.
Jimme being Dutch, we also tend to see ourselves as a European Studio, and our inspirations comes from over the French borders.
"Sometimes we get the feeling that French design is too serious and lacks a little bit of humor and simplicity. Young designers are looking for more freedom, less segmentation, and we are willing to be part of this."
What do you envision for the future of Bigtime Studio?
In September 2019, we were selected with twelve other Parisian studios to become permanent residents of the Villa Du Lavoir, the new center for Design and Craft in the city of Paris. This was the perfect opportunity for us to make one more step towards the goal of working with other local creators. It is a very comforting feeling that our studio is now recognized for its experimental way of creating, and for its need to be surrounded by other qualified craftsmen and designers.
Following this evolution, we want to enlarge the connections and collaborations during the coming years. Accumulating knowledge while being in an environment where this same knowledge can be shared is very exciting and stimulating. We have the ambition to keep growing, but we want the studio to stay connected to contemporary reflections and concerns. This position of sharing is related to the willingness of being as conscious as possible of our environment and to remain in a local and eco-friendly creation process.
Bio
Bigtime Studio is a scenography and design studio inspired by constant artistic research. Each project responds in a unique way to the problem posed by proposing a new experience of space.
Thanks to the combined vision of Marion Flament and Jimme Cloo, the studio has been developing an evolutionary, creative, and technical approach in the field of culture, lifestyle, and art since 2014. It is through a continuous study based on the singular association of materials, what it can generate in terms of dialogue and confrontation, that the studio offers a precise and tailor-made response to its clients and collaborators.
As a key material, light is at the center of this methodology, as a signature on the spaces and objects designed by Bigtime studio.