Announcing Italy at Crossovers 2019: Visions of a perfect, idealized, utopian Milanese living space.
"The long tradition of Italian design continues;
it evolves just as it sees fit"

Annalisa Rosso & Francesco Mainardi
Curators of the Italian Collection

For many, the idea of an Italian living space could be ripped straight from the pages of a (possibly dated) marble-clad, gold-plated, editorial spread, in all its of its theatric opulence, a true vision of classic luxury.  While this grandiose, marble-clad aesthetic may have its particular charm, today's Italian designers are building upon the esteem and elegance of their past with such a convergence of influences the likes of which deliver it into a rank all its own. Contemporary, thoughtful applications of classically Italian approaches to material, color, and form define this standout collection. While flowing together seamlessly as a cohesive collection, each individual work tells its own authentic story on the many influences reflecting this design scene's diverse and metropolitan evolution.
Adorno is proud to present the Italian Collection, curated by Mr. Lawrence, Annalisa Rosso and Francesco Mainardi, to be exhibited this year at Crossovers: 2019 during London Design Fair. Milanese Interiors: A reflection on the current condition of contemporary design in Italy. The approach of contemporary Italian designers goes beyond one single object, the scope takes into consideration, context, the past, all possible references; this new vision must, as well, be a new domesticity.
Designer and studio list presented in the Italian collection represent some of the most unique and outstanding voices in contemporary Italian design including Pietro Russo, Rio Grande, Vito Nesta, Draga & Aurel, Zanellato/Bortotto Studio, Philippe Tabet, Architetti Artigiani Anonimi, Valentina Cameranesi, Agustina Bottoni, Stories of Italy, and Valentina Romen 

The Italian Collection
What are the main themes presented across the works in the collection?
The idea is to imagine the interiors, environments of a perfect, idealized, utopian Milanese living space – inhabited by collectors or by design enthusiasts. This is the briefing that we have given to our designers (12 in total) who we have chosen to take part in this first collection. Together with them, we have selected works from their existing portfolio or designated new pieces to be put into production or produced ad hoc. The result is a collection of 15 pieces, 6 of which are completely new works, that seeks to recreate the imaginary picture of a contemporary Milanese interior.
Give us 3 words that define the current design scene in Milan.
Energetic. Open. International.

Rio Grande. Credit: Tommy Frost 
Do designers in Italy have a lot to live up to considering Italy's position in the design world, and how do the designers in your collection address these expectations?
The new generation of emerging Italian designers does not directly bear this weight of a legacy as insurmountable as that of the great Italian Masters, because they are separated by such a temporal distance that they really are not subject to comparison. They are well versed in the work of the Masters, they can make reference to this if required but it is not a source of pressure. As a joke, we sometimes say that the relationship between the new designers and the great Masters is similar to that of grandparents and their grandchildren; the rigidity of confrontation is taken away, and they can play together without the fear of reverence. Many of the emerging Italian designers – including those in this collection – have experience studying, working and researching abroad, they have influences that come from every part of the world and have independently decided to settle their practices in Italy, with the same liberty and autonomy of expression that has characterized the great designers of the past. They work in new and multiple languages, and thanks to the profound changes in the industrial sector, they are putting into place new models of development from this same project activity. From this, the long tradition of Italian design continues, it evolves just as it sees fit, and forges ahead in the shadow of well-defined and recognizable values and characteristics.

Architetti Artigiani Anonimi and Valentina Cameranesi. Credit Tommy Frost 
Architecture and architectural influences are a standout characteristic of this collection, how do you think designers in Italy today are reinterpreting this in a different way than Italian design in the past?
Italian design has always had a strong link to architecture written into its DNA; many of those who today are considered the design masters, were in reality architects, and many of their projects (even the most radical) had an architectural layout. The academic tradition of design in Italy is in fact more closely related to architecture than to engineering or schools of fine art (different from other nations). Finally, if we bring to mind the relationship between Italian design and domestic landscape (celebrated in the famous 1972 exhibition, Italy: The New Domestic Landscape at New York's MOMA) this truly established the permanent and indissolvable all-Italian union between product and its (domestic) habitat. The dialogue between design and architecture has remained a consistent and ongoing phenomenon and is to this day the defining characteristic of contemporary Italian design, which through its evolution – now, admittingly less tied to industry, but much more interdisciplinary and open to contamination – remains linked, as well, to the world of the interior.

There definitely is not fear of color amongst these designers, but its application is elegant, calming and sophisticated and by no means busy or overwhelming, what about this use of color is so very Italian and sets it apart from contemporary design in other countries?
As we have said, today emerging Italian design does not have a timid reverence when it comes to confronting the past, it is experiencing a moment of true experimentation and research taking place through new languages, connections, materials, technologies, and markets. This is a phase of inclusion and addition rather than subtraction. There is the will to have eyes on the past as well as the future with the same freedom, and in doing so, overlapping references from the past with innovation not only by means of color but also through production technologies, through material, through form and through their functions.

Connections to World Design
What does this collection say about the state of contemporary design internationally?
Contemporary design is difficult to label. Designers today are real globe trotters who have studied in one country, done internships and apprenticeships in another, live in yet another and collaborate with producers and researchers scattered across the globe. But the fascinating thing is that, somehow, their work is still influenced by the environment that they have chosen as their operative base – a choice that can indeed change over time! In Italy, there is not one school that has codified one specific style of contemporary design, like for example what has happened in ECAL in Switzerland, the Eindhoven Design Academy in Holland or Central Saint Martins in London. If it is true that to say that there a common feeling and living within the Italian collection, we wanted to capture and record the situation of design of one distinct time and place (present-day Italy), with its particular production techniques, esthetic, research and sensibility. Originating from a common starting point, it is interesting to see how each designer has been able to produce such different yet coherent objects, linked together by one common thread: a Milanese Interior.

Pietro Russo. Credit: Tommy Frost 
What is exciting about having this collection displayed together with other top design scenes from around the world?
Adorno's idea to bring together national collections with relevant curators, as well as the project of exhibiting these collections together in the same space, seemed both compelling and intelligent at the same time. Design has different connotations depending on the geographic area it originates from, but especially in the case of production of collectible contemporary design, it is difficult to grasp these distinctive or aggressive attributes. What Crossovers aims to accomplish is to make is a statement about contemporary design on a global level and it will certainly be fascinating to view these various collections in search of connections or divergences between the individual objects, designers, curators, and their territory. We are certain that this will be an opportunity to satisfy a mixed and diverse curiosity!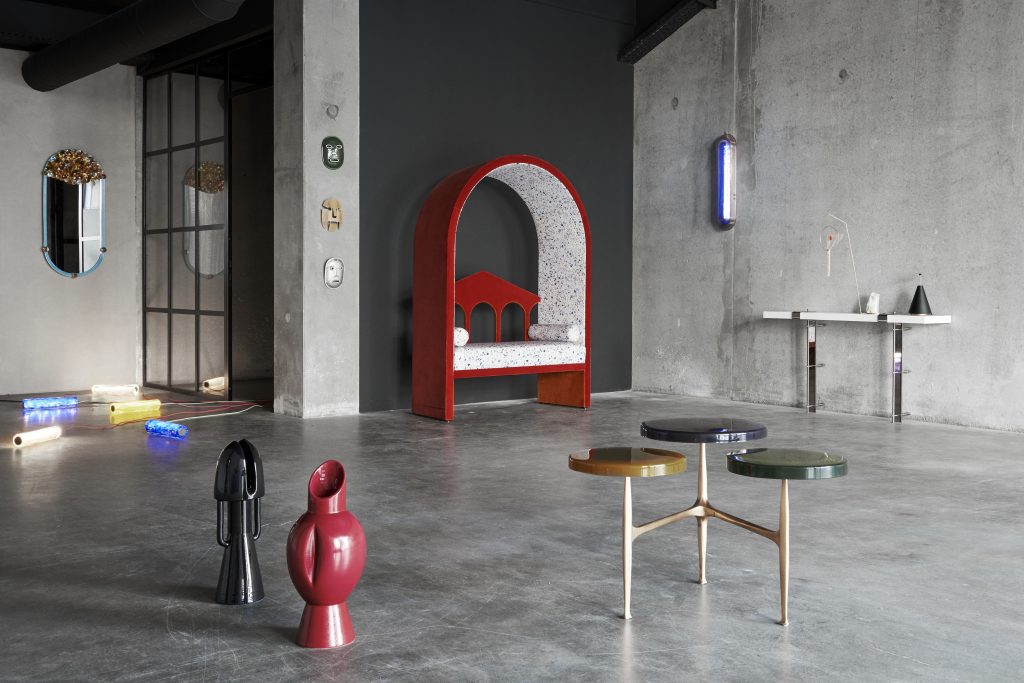 Curated by Annalisa Rosso & Francesco Mainardi
In 2018, Annalisa Rosso and Francesco Mainardi founded
Mr. Lawrence
, a design and brand consultancy based in Milan.
"We complemented each other professionally: theory & design, research & company production, order & disorder. We are different but at the same time synergic. Our strength lies in our two mirrored viewpoints."
Mr. Lawrence is a design singer, performing art direction, editorial projects, concept development, and design curatorialship, from Italy to the stages around the world. Annalisa Rosso is a design writer, consultant, and independent curator and is currently editor-in-chief of
Icon Design Magazine (Mondadori)
. Francesco Mainardi is a designer specialized in strategy, brand and design management, currently a professor at
Istituto Marangoni
, teaching Design Strategy in the Design Management master courses.
What is your favorite piece of design you currently own or have come into contact with recently?
We like lamps. Francesco has worked extensively in that area and we have a lot of them. Among the favorites, the suspension lamp in our bedroom: the Leonardo lamp by Antoni Arola edited by Santa & Cole, a Spanish company that Francesco spent 7 years working for. We're still deeply attached to it.
Supported by: